The fourth Quality Innovation Challenge (QIC) was launched on 26 September 2022, with finalists being announced at the International Conference on Family Planning (ICFP) in Pattaya, Thailand.
The application portal is now closed.
The QIC is an open grant submission process to solicit creative ideas from visionary innovators who are courageous in their pursuit to advance everyone's right to quality sexual and reproductive healthcare. This year, the RH program anticipates funding 10 grants of up to $100,000 each from registered conference participants.
Bring Quality Care Closer to All
2022 Theme: Ensuring equitable and just access to quality sexual and reproductive health information and services for all.
Who can apply?
Applicants must be registered conference participants who will attend the ICFP either virtually or in person.
We accept applications from not-for-profit groups and/or individuals affiliated with a university or who have a relationship with a not-for-profit organization that can provide fiscal responsibility.
Applicants can be from anywhere across the globe.
Applications from local organizations led by youth under 35 years are encouraged.
We encourage applications from organizations led by or serving all persons and identities regardless of age, gender, or disability.
What types of projects will be considered for funding?
Projects seeking to engage and support underserved communities with quality, equitable information and services on adolescent sexual and reproductive health, contraception and/or comprehensive abortion care are encouraged.
Projects submitted by youth-led and youth-serving organizations are encouraged.
Projects that incorporate and center youth and community members' perspectives across all phases including design, implementation, and evaluation are encouraged.
Projects that recognize the pervasiveness of the digital divide and do not solely focus on digital health care to solve persistent health inequities.
What types of projects will not be considered for funding?
This round of QIC grants will not consider proposals for new digital health apps. However, adaptations and extensions of existing apps aiming to extend the service reach will be considered. Projects intending to include a digital health component should address how the solution is suitable in the proposed setting given the global digital divide.
Projects that are currently funded by the Foundation for which the organization would like supplemental funding will not be considered. (Organizations interested in such funding should contact their Foundation Program Officer directly.)
Projects submitted by organizations or individuals who are not registered for the International Conference on Family Planning 2022.
Application and Funding Timeline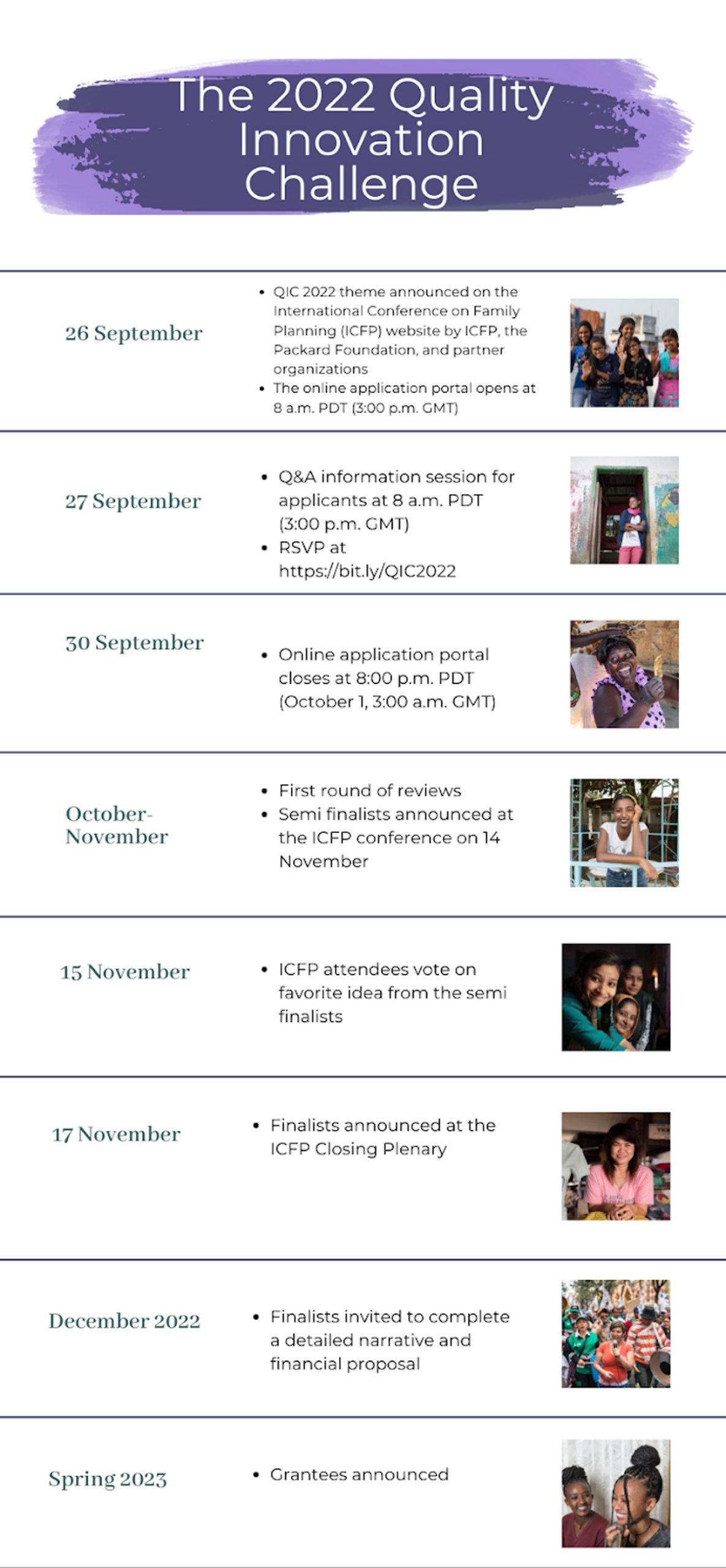 Frequently Asked Questions
How do I submit an idea for QIC funding?
Please complete the online application anytime between Monday, 26 September at 8:00 a.m. PDT (3:00 p.m. GMT) and Friday, 30 September at 8:00 p.m. PDT (October 1, 3:00 a.m. GMT).
Late applications will not be accepted.
Can I submit more than one application?
Each organization can submit a maximum of two individual proposals.
If I've had a QIC grant in the past, can I reapply?
Yes, but the ideas must be different from those previously submitted. If you are looking to propose extensions of current projects, please speak to your Packard Foundation Program Officer.
How much funding is available?
We anticipate funding 10 grants of up to $100,000 each.
All grants awarded must comply with the Foundation's standard internal due diligence process. When reviewing applications, the Foundation will take into consideration any applicable laws and regulations, imposed by both the U.S. and the country where the applicant organization is located, that may restrict the ability for the Foundation to make the grant(s) as proposed.
What is the application and review process?
The application form will be available in English and French and has two sections. In the first section, we ask you to provide some general information about your organization and the communities you serve. In the second section, we ask you to provide a few short statements summarizing your proposed project. For this challenge, we have formed a network of technical reviewers who represent the diverse populations and geographies our program seeks to serve. Each submission will be read and scored by a minimum of two reviewers.
After the initial round of scoring, the top 30 applications will be announced as semifinalists on Monday, 14 November at the ICFP.
The semifinalists will then be assessed by a smaller team of reviewers in Thailand during the ICFP.
At the same time, conference attendees will have the opportunity to view the project ideas of the semifinalists and vote on the idea they find to be most compelling.
At the ICFP Closing Plenary, finalists will be announced. One finalist will be selected based on the idea that received the most votes by conference attendees. The remaining finalists will be selected through deliberation with the technical reviewers.
What language can I apply in?
How will I know if my submission is selected as a finalist?
The top 15 submissions from the Quality Innovation Challenge will be announced as finalists at the ICFP closing plenary on Thursday, 17 November. Finalists will also be notified by email.
These applicants will be invited to submit a full proposal to the Foundation.
What if I am participating virtually?
Virtual applicants are also invited to submit project ideas through the application portal. If selected as a finalist, the organization will be announced with all finalists at the closing plenary on Thursday, 17 November 2022. Finalists will also be notified by email and invited to submit a full proposal to the Foundation thereafter.
Who do I contact if I am having trouble with the online application portal?
If you have any problems with the application portal, please reach out to QIC@packard.org. The survey software supporting this process is called SurveyPro. Information about the SurveyPro software can be found at www.surveypro.us.
What has the Quality Innovation Challenge funded previously?
The Packard Foundation has hosted Quality Innovation Challenges at the International Conference on Family Planning (ICFP) in Addis Ababa, Ethiopia in 2013, in Nusa Dua, Indonesia in 2016 and in Kigali, Rwanda in 2018.
At each conference, participants submitted ideas aimed at improving the quality of reproductive healthcare. Through its Quality Innovation Challenge, the Foundation has made 27 grants totaling nearly $1,900,000 to fund innovations sourced at ICFP meetings.
Learn more about previous innovations at the Packard Foundation's website.
For any additional questions about the Quality Innovation Challenge, please email QIC@packard.org.