Because deforestation and unsustainable agricultural practices are responsible for 25 percent of global carbon emissions, the Packard Foundation supports changes in land use policies and practices that reduce emissions while protecting biodiversity and people's livelihoods.
Forests, prairies and wetlands, which absorb and store a significant amount of greenhouse gasses, are being converted into cropland at high rates to meet the growing demand for food, fiber and fuel worldwide. For example, the conversion of forest and peatland to palm oil plantations in Indonesia is currently the largest global source of land use greenhouse gas emissions, making it urgent to find a sustainable path for this industry. In addition, much of the bioenergy in use today is associated with deforestation, generating near-term emissions greater than the fossil fuels being replaced. To address these complex challenges, we support grantees who work on policy reform, carbon markets, and supply chain approaches that reduce emissions from agriculture and deforestation in targeted regions around the world.
Our goal is to reduce greenhouse gas emissions associated with agriculture. Our three strategies are to:
Reduce the rate at which peatland and native forests are converted to new palm oil plantations in Indonesia while also building a pathway to a sustainable palm oil industry.
Reduce emissions from commodity agriculture in the United States.
Phase out high-carbon bioenergy and accelerate the transition to a clean energy and forest-positive future with social justice at its heart.
Partner Highlight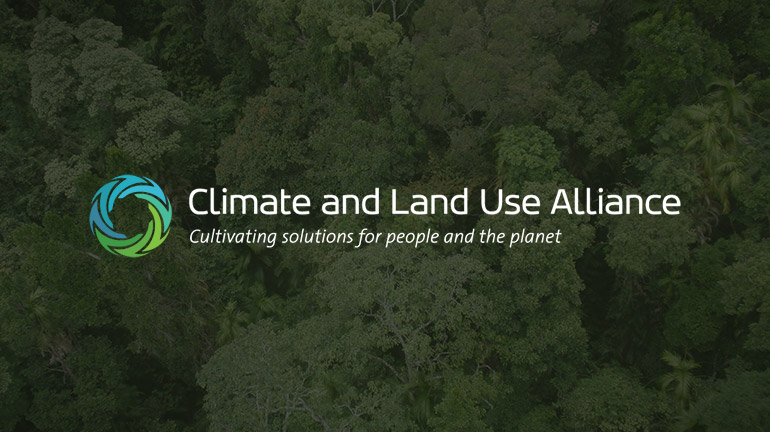 Climate and Land Use Alliance
A collaborative initiative of ClimateWorks, the Ford Foundation, the Moore Foundation and the Packard Foundation, the Climate and Land Use Alliance represents a shared recognition that better land use must play a prominent role in addressing climate change. The Alliance works to protect vast swaths of carbon-rich forest, while also sustaining livelihoods for communities of people who live in and around them. As demand for food, fuel and fiber continues to grow, the Climate and Land Use Alliance creates a way to increase the scale and pace of positive impact. Using tools to shift supply chains, consumer behavior and land use policies, the Alliance targets regions where the challenges are greatest and where it can drive the greatest change – Brazil, Indonesia, the United States, Mexico and Central America. To date, the Climate and Land Use Alliance has helped slow deforestation in Brazil, and helped to change the trajectory of the palm oil industry, slowing the rate of deforestation and peatland conversion while also protecting the rights of Indigenous Peoples affected by palm oil production.
For more information about the Climate and Land Use Alliance.
The Conservation and Science program welcomes your ideas for funding requests. Please review our existing strategies and, if your work is aligned with our funding priorities and geographic focus, send a short description to the relevant Program Officer and Program Associate or send the description using the form here. Please do not send a full proposal until requested by the Program Officer.