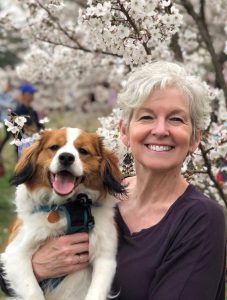 The David and Lucile Packard Foundation is pleased to announce that Ko Barrett has joined its Board of Trustees. Barrett is a globally recognized expert on climate policy and a champion for gender equity in science. She currently serves as the senior advisor for climate at the National Oceanic and Atmospheric Administration (NOAA) and was one of the first women elected to serve as a vice chair for the Intergovernmental Panel on Climate Change (IPCC), a role she has held since 2015.
"Ko will bring important insight and expertise to our work supporting ocean conservation and climate solutions, including how these issues are deeply intertwined with human health," said Board Chair David Orr. "I am pleased to welcome Ko to our Board, and I look forward to working together to help find solutions to some of the world's most pressing problems, especially climate change."
As the senior advisor for climate at NOAA, Barrett is responsible for providing strategic advice and direction to align, integrate, and extend NOAA's capabilities toward achieving U.S. climate goals to reduce emissions and stabilize global temperature by mid-century.
"Global climate change transcends borders and demands urgent action. Ko brings significant overseas development experience and extraordinary climate policy leadership," said Nancy Lindborg, President and CEO of the Packard Foundation. "Furthermore, her commitment to having scientists from around the world at the table where critical climate decisions are made will be an asset to the Foundation."
In addition to her role as the vice chair of the IPCC, Barrett also chairs both the IPCC's Gender Action Team and the Science Board for the Scholarship Program and brings a talent for facilitating consensus to advance the work of the organization.
"I am honored to join the Packard Foundation, an organization whose investments over decades have blazed a path for cutting-edge work on climate change and the environment," said Barrett. "I'm excited to roll up my sleeves and contribute to the Foundation's efforts on climate change and science, as well as efforts to advance equity and justice."
For over 15 years, Barrett represented the U.S. on delegations charged with negotiating and adopting climate science and policy outcomes. In addition to her work with the IPCC, she served as a lead negotiator for the U.S. on the United Nations treaty on climate change.
Her past roles at NOAA include deputy assistant administrator for programs and administration in the Office of Research and leadership positions in its Climate Program Office. Prior to joining NOAA in 2005, Barrett was the director of the Global Climate Change program at the U.S. Agency for International Development and oversaw climate activities in more than 40 countries.
Barrett has won multiple awards for her contributions both to NOAA and the nation, notably NOAA Administrator's Awards in 2010 and 2015, the U.S. Department of State Meritorious Honor Award in 2011, and a Nobel Peace Prize shared with members of the IPCC in 2007. In 2021, she was awarded a Distinguished Presidential Rank Award, one of the most prestigious awards in the federal career civil service.
Barrett has a Bachelor of Science degree in environmental studies from the University of North Carolina Asheville and was named University Scholar as well as Distinguished Research Scholar and elected as a member of Sigma Xi, the Scientific Research Society. In 2017, she was the commencement speaker and received an honorary Doctor of Science degree.
As a lifelong athlete and outdoor enthusiast, Barrett enjoys rowing up the tributaries of the Chesapeake Bay and exploring hiking trails with her dog Finn.