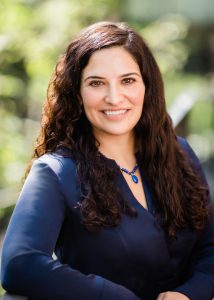 The David and Lucile Packard Foundation is pleased to announce the appointment of Anna Archer to the role of Chief of Staff. In this new role, Archer will work closely with the CEO, Executive Team, and Trustees to shape organizational priorities and ensure alignment and clear lines of communication across the organization. She serves as a senior advisor to the President and CEO and manages executive support staff.  
"I greatly appreciate Anna's ability to untangle complexities and keep us moving forward, especially during a time of change and growth," said Nancy Lindborg, Packard Foundation President and CEO. "This new role appropriately recognizes her significant and continuing contributions to our effectiveness and impact."  
Archer joined the Foundation in 2020. As the President's Office Director, Archer was key in moving forward foundation priorities, including the Foundation-wide strategic review that resulted in our new strategic framework.  
"It is an honor to serve in this new role and to collaborate with the incredible Packard Foundation staff," said Archer. "I am inspired daily by our ambitious vision and my thoughtful colleagues and look forward to the work ahead of us."  
Prior to joining the Foundation, Archer worked at the Monterey Bay Aquarium, first as Executive Assistant to the CEO and Board Liaison, then in several Human Resources roles including wellness and benefits management, employee relations, and talent acquisition. Before her time at the aquarium, Archer worked in advertising. 
Outside of work, Archer recently completed her second and final term on the board of All Saints Day School in Carmel-by-the-Sea. She holds a degree in Political Science from Swarthmore College.