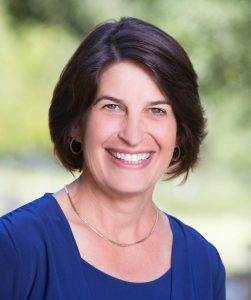 The David and Lucile Packard Foundation announced today that Dr. Ruth Levine (she/her) will join the Foundation as its first-ever Vice President of Just Societies and Chief Learning Officer. In this new role, she will guide the Foundation's work to build just and equitable societies and will lead the Foundation's commitment to learning and impact. 
Dr. Levine is an internationally recognized development economist and expert in gender equity, global health, education, and evaluation with more than three decades of experience working on the design and implementation of policies and programs. Most recently, Levine was CEO of IDinsight, a mission-driven global advisory, data analytics, and research organization that helps global development leaders in governments, multilateral agencies, foundations, and innovative non-profit organizations in Asia and Africa to maximize their social impact.  
From 2011 to 2019, Dr. Levine led the Global Development and Population Program at the William and Flora Hewlett Foundation, overseeing a total of approximately $1 billion in grantmaking. She was responsible for grantmaking that fostered inclusive societies and expanded women's reproductive and economic choices; increased governments' responsiveness to the people they serve; and improved policymaking through the effective use of evidence.  
"Ruth is a proven leader, creative thinker, and evidence-based strategist. She is well poised to develop the Packard Foundation's new area of focus to strengthen the institutions, policies, and practices essential as we pursue just societies," said Nancy Lindborg, President and CEO of the Packard Foundation. "I am delighted to have Ruth join our Packard Foundation team with her deep expertise across sectors, extensive international experience, and collaborative approach." 
The Packard Foundation's new approach focuses on the deeply interconnected nature of the issues at the heart of the Foundation's mission. In her new role, Levine will lead the teams within the newly organized Just Societies goal, including reproductive health and rights for women in the U.S. and internationally, U.S. democracy, justice and equity, and civil society and leadership.  
"I am inspired by the Packard Foundation's vision, and eager to bring my experience in philanthropy and the nonprofit sector to the major, systemic challenges the Foundation is tackling," said Levine. "At this time of great change and challenge, we have the opportunity to reimagine our future together." 
Previously, she was a deputy assistant administrator in the Bureau of Policy, Planning and Learning at the U.S. Agency for International Development. She spent nearly a decade at the Center for Global Development (CGD), where she designed and led its Global Health Policy Program and served as CGD's first vice president for programs and operations. Earlier in her career, she designed and evaluated health and education projects at the Inter-American Development Bank and the World Bank. 
Levine is the author of scores of books and publications in development economics and global health, including "Millions Saved: Proven Successes in Global Health," and co-wrote the report, "When Will We Ever Learn? Improving Lives through Impact Evaluation." In 2019, she received the Bill & Melinda Gates Institute for Population and Reproductive Health Luminary Award, which recognizes long-standing champions of family planning and reproductive health who, over their careers, have illuminated a path for others to follow. 
She currently serves on the board of the International Institute for Impact Evaluation, Namati, the International Budget Partnership, the Mawazo Institute, and the African Population and Health Research Center. Levine holds a doctoral degree jointly in economics and demography from Johns Hopkins University and a bachelor's degree in biochemistry from Cornell University.  
Levine will assume full time responsibilities at the Packard Foundation in May 2023.