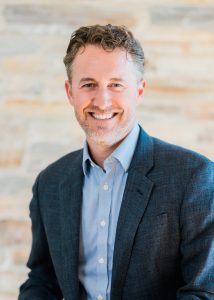 The David and Lucile Packard Foundation is pleased to announce that Jason Burnett (he/him) has been named chair of the Board of Trustees. Burnett, grandson of David and Lucile Packard, has served as a federal and local public official and is a nationally recognized climate change policy strategist. Burnett, who has served as a Trustee since 2008, was elected by the full board to become the fourth chair in the foundation's nearly 60-year history.
"Jason brings integrity, a collaborative style, and thoughtful approach that will serve us well as we evolve to meet the challenges of an ever-changing world," said Packard Foundation President and CEO Nancy Lindborg. "He also has a breadth and depth of experience working on policy, climate change, and innovation, as both a public servant and an entrepreneur, as well as significant experience as a Foundation Trustee. I welcome the opportunity to work with him."
Burnett played an active role in developing the Foundation's new strategic framework, including a new vision and mission, refreshed values, and three interdependent grantmaking goals, which will guide the next chapter of the Foundation.
"I am humbled to take on this role at an institution where interconnectedness and justice and equity are at the core of everything we do," said Jason Burnett. "The leaders before me paved the way for the Foundation's unwavering commitment to people and organizations who are protecting our planet and ensuring all people can thrive. It is an incredible honor and responsibility to carry on that legacy, and I look forward to working with the Board, our staff, and our grantees to ensure we are rising to meet this pivotal moment."
Burnett is currently the CEO of Crosswalk Labs, a company that tracks greenhouse gas emissions across the U.S. to help local communities make more effective climate decisions. He leads a team of researchers using billions of data points to gain a more granular understanding of where CO2 emissions come from and how they impact local communities.
Throughout his career, Burnett has served as a government official, energy advisor, researcher, and entrepreneur. He served as mayor of Carmel-by-the-Sea, CA from 2012 to 2016 and as a Carmel-by-the-Sea city councilmember from 2010 to 2012. During his time as mayor, he was also elected by his fellow local mayors to serve as President of the Monterey Peninsula Regional Water Authority where he led an effort to develop a sustainable water supply for the six Monterey Peninsula cities. Prior to that he served as the associate deputy administrator of the U.S. Environmental Protection Agency (EPA) where he coordinated energy and climate change policy across the EPA and led the development of greenhouse gas regulations.
Burnett holds a bachelor's degree in Economics and a master's degree in Earth Systems from Stanford University. He serves as the Chair of the Board for the Fund for a Better Future. Burnett is an avid gardener, woodworker, and cook, and lives in Washington, D.C. with his wife, Melissa Burnett, and their son, Sebastian Burnett.
Burnett will lead the Foundation's Board of Trustees, which includes both Packard family members and General Trustees. He succeeds David Orr, who completed a five-year term as the inaugural third generation Board Chair in 2022 and will continue to serve as a Trustee.
"I am grateful for David's visionary leadership over the last five years as the Foundation reexamined how we can make and sustain meaningful progress in today's rapidly changing world," said Lindborg. "He served at a critical time of transition with leadership changes, strategic reviews, and the transitioning of the Board's leadership to the third generation of Family Trustees. I look forward to continuing to work with him as a member of the Board."