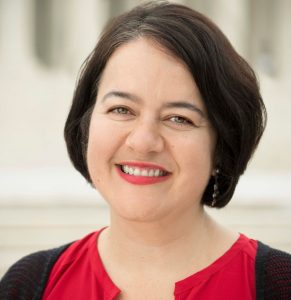 The David and Lucile Packard Foundation is pleased to announce that Marielena Hincapié (she/ella) has joined its Board of Trustees. Hincapié is a nationally respected leader and legal and political strategist in the justice movement, and a leading voice in the national conversation on immigration.  
For over 14 years, Hincapié served as the executive director of the Los Angeles-based National Immigration Law Center (NILC) and the NILC Immigrant Justice Fund (IJF). Under her leadership, NILC and the IJF strategically combined litigation, policy, communications, narrative change, and movement-building to effect transformational change. During her time at NILC, Hincapié also served as the director of programs and as a staff attorney leading the organization's labor and employment program. She successfully litigated law reform and impact-litigation cases at the intersection of immigration laws and employment/labor laws. 
"I am thrilled to have Marielena join us on the Board as a thought leader and partner as we write the Packard Foundation's next chapter," said Board Chair Jason Burnett. "She brings a wealth of personal and professional experience in equity, justice, and democracy that will lead to the betterment of our society."  
Hincapié is a seasoned strategist and bridge builder. She co-led the transformational Immigrant Movement Visioning Process resulting in a long-term vision for immigrant justice in the U.S. grounded in racial, economic, and gender justice and equity. As the co-chair of the Biden 2020 Campaign's Unity Taskforce on Immigration, she led the national conversation on the essential role immigrants play in shaping the future of the U.S. and safeguarding our democracy.  
She played a key role in supporting youth leaders in the creation and successful implementation of Deferred Action for Childhood Arrivals (DACA) and co-founded the Protecting Immigrant Families (PIF) coalition to address the chilling effect the public charge rule could have on children and families needing health, nutrition, housing, and other safety net programs. She co-created the #ImmigrantsAreEssential cultural campaign which won the 2021 Shorty Award for Best Integrated Campaign and the 2022 Gold Anthem Award Winner for Civil and Human Rights. 
"This is a full circle moment for me: I first got to know the Packard Foundation as a grantee, and now I am thrilled to join the Board of Trustees as we embark on a new strategic direction," said Hincapié. "There is no work more important than safeguarding our planet, children and family's health especially reproductive health, and our democracy."  
Before joining NILC, Hincapié worked for the Legal Aid Society of San Francisco's Employment Law Center, and previously served on the American Bar Association's Commission on Immigration, and the boards of Jobs With Justice, the Center for Law & Social Policy, and as founding Board President of the Indivisible Project. In July 2023, she will serve as a Distinguished Visiting Immigration Scholar at Cornell Law School. 
"Marielena has been a leader and a role model in her work across sectors and issues. Her interconnected approach and commitment to work with others for enduring solutions is an inspiration," said Packard Foundation President and CEO Nancy Lindborg. "We are so fortunate to have her perspective and background, including her experience as a former grantee, at the table as we move forward to tackle some of the world's most pressing problems." 
As an immigrant from Colombia, Hincapié brings a bilingual and bicultural perspective to her work for equity, justice, and democracy. She is a sought out by the media and as a keynote speaker, including recent interviews with the New York Times, Washington Post, Univisión, Telemundo, CNN, MSNBC, USA Today, among others, and has given many keynotes including as commencement speaker for the Roger Williams University Law School.  
Hincapié has been recognized with numerous awards, including Univision's Corazón Award, a Stanton Fellowship from the Durfee Foundation, the Latina of Influence Award from Hispanic Lifestyle, the National Public Service Award from Stanford Law School, and the Prime Mover Fellowship from the Hunt Alternatives Fund. She served as the Northeastern University School of Law Daynard Distinguished Visiting Fellow and the Practitioner-in-Residence at the Thelton E. Henderson Center for Social Justice at the University of California, Berkeley, School of Law.  
Hincapié immigrated as a child from Medellín, Colombia, to Central Falls, Rhode Island and grew up as the youngest in a family of 10 children. She earned her bachelors degree in Criminal Justice from Northeastern University and her juris doctor degree from Northeastern University School of Law.