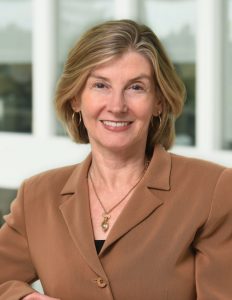 The David and Lucile Packard Foundation's Board of Trustees today announced the selection of Nancy Lindborg as the Foundation's new president and CEO. Lindborg is a recognized leader on issues of democracy, civil society, peacebuilding, and humanitarian response, and brings extensive experience leading public service organizations and government agencies that work on the world's most complex problems. Lindborg will lead the 55-year-old family foundation in its commitment to advance the lives of children, families, and communities, and restore and protect the planet.
"Nancy's global experience, deep integrity, and inspiring vision will increase the Packard Foundation's impact and accelerate our efforts to solve some of the world's most challenging problems," said David Orr, chair of the Foundation's Board of Trustees. "Issues like global climate change and reproductive rights and health are increasingly interconnected, transcend borders, and demand urgent action. We are delighted to have Nancy lead us as we navigate the challenges and opportunities that face us and the world in the years to come."
Lindborg has dedicated much of her career to serving people affected by profound humanitarian crises, and she has a record of translating large-scale strategies into practical solutions on the ground. Since 2015, she has served as president and CEO at the U.S. Institute of Peace (USIP), a nonpartisan, independent, federal organization dedicated to preventing and resolving violent conflict around the world. As the first female president of USIP, she has been a leading voice on the important role of women in peacebuilding. Under her tenure, USIP launched the Women Building Peace Award to honor and amplify the voices of inspiring women leaders in the field.
Prior to USIP, Lindborg served as the assistant administrator for the Bureau for Democracy, Conflict, and Humanitarian Assistance at the U.S. Agency for International Development. There she directed more than 600 team members and led global response teams focused on crisis prevention, response, and recovery, including the crisis in Syria, droughts in the Sahel and the Horn of Africa, and the 2014 Ebola epidemic. From 1996 to 2010, Lindborg was president of Mercy Corps, which she helped to grow into a globally-respected organization known for innovative programs operating in some of the most challenging environments. Lindborg began her career in the San Francisco Bay Area as a consultant on energy conservation, land use, and other environmental issues.
"Through my work with NGOs and government agencies, I have seen how change happens. I have seen the unique and essential role philanthropy plays in making long-term impact by taking risks and catalyzing new ideas," said Lindborg. "The Packard Foundation and its partners are doing extraordinary work to help people reach their aspirations. I look forward to joining the Foundation and its partners in their mission to make sustained progress on some of the most pressing challenges of our time."
Lindborg holds a B.A. and M.A. in English literature from Stanford University and an M.A. in public administration from the John F. Kennedy School of Government at Harvard University. Lindborg has held a number of leadership and board positions, including serving as co-president of the Board of Directors for the U.S. Global Leadership Campaign; co-founder and co-chair of the National Committee for North Korea; and currently serving as a board member for the Institute for the Study of Diplomacy at Georgetown University, the PeaceTech Lab, and the International Center on Nonviolent Conflict. She is a member of the Council on Foreign Relations.
The selection comes after an extensive global search by the Foundation's search committee comprised of Packard family Trustees and general Trustees. Lindborg will begin her role with the Foundation in August 2020. She succeeds Carol Larson, who stepped down as president and CEO at the end of 2019 after more than 30 years with the Foundation. The Foundation's vice president and chief financial officer, Craig Neyman, is serving as interim president and CEO until Lindborg's arrival.