View Resource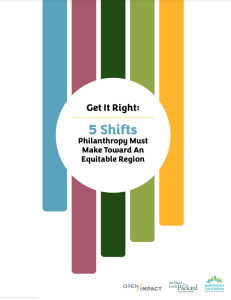 Northern California harbors some of the most extreme economic inequality in the nation. In 2016, Open Impact's report "The Giving Code: Silicon Valley Nonprofits and Philanthropy" highlighted a mismatch between the region's astounding wealth and resourcing of community-based organizations which struggled to meet the most basic needs of lower income folks: safe and stable shelter, sufficient nutritious food, livable wage jobs, and a good education.
Now five years later, while there are some breakthroughs and bright spots, the philanthropy gap has only grown. To chart a course toward a more caring, connected, and equitable region powered by the philanthropy sector, the David and Lucile Packard Foundation supported a unique partnership between Northern California Grantmakers and Open Impact to identify the shifts that decision-makers — including philanthropy board members, trustees, and executives, as well as individual donors — must make. These shifts in practice enable Northern California donors and institutions to align their resources and propel changes that close racialized wealth gaps and establish conditions for regional vibrancy and communal well-being.
The report recommends practices such as: centering equity rather than your experience, emphasizing systems rather than symptoms, choosing collective over individual action, leveraging capital to the scale of the issue, and updating outdated grantmaking processes. By embracing and applying these practices, leaders in philanthropy can be an even more effective partners in building a region where everyone flourishes.