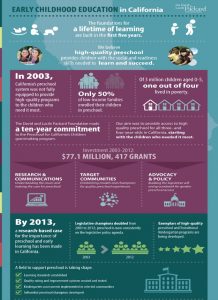 In 2003, California's preschool system was not fully equipped to provide high-quality programs to the children who needed it most. Believing that high-quality preschool provides children with essential social and readiness skills needed to succeed, the David and Lucile Packard Foundation made a 10-year commitment to the Preschool for California's Children grantmaking program. Our aim was to provide access to high quality preschool for all three- and four-year-olds in California, starting with the children who needed it most. This infographic shares our learnings and successes from the last ten years, and introduces our new strategy to improve the quality of early learning experiences for California's youngest through 2023.
The infographic is based on internal and published Foundation documents, evaluation reports (including Preschool for California's Children Evaluation Findings from 2003-2008 and 2008-2013), inputs from Foundation staff, and the lead evaluator of the Foundation's work in early childhood education.
A printable PDF version of the infographic can be viewed here.