View Resource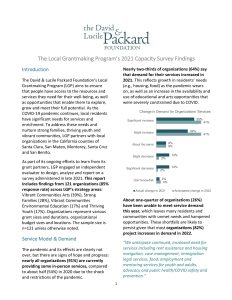 Since 2009, the Packard Foundation has surveyed our local Bay Area grantee partners to better understand and monitor the context in which these organizations work, as well as their organizational strengths and needs. In 2021, the survey was designed to focus on the major issues of this time including the continued impacts of the coronavirus pandemic, regional wildfires, and the economic downturn. This executive summary presents the 2021 survey findings that gathered data from 121 organizations that our Local Grantmaking program supports.
The report highlights the sustained impact the pandemic has had on community-based organizations, such as increases in service demands and significant senior leadership turnover, as well as signs of hope and progress, including increases in in-person services and increases in overall private funding and relief funding. The findings paint a picture of an ecosystem of organizations who are optimistic about the pandemic recovery and their ability to meet the challenges and demands of the time but still grappling with the unpredictable landscape and how it will affect their capacity, staff, clients, and community. Recruiting, retaining, and supporting staff remains at the heart of many of the most difficult and pressing capacity needs, including staff for fundraising, monitoring, and justice and equity work. Additionally, organizations see an opportunity for the Packard Foundation to not only continue, but augment, its investments and supports for justice and equity efforts.
The Foundation uses this annual survey to inform our local Bay Area grantmaking strategies, including initiatives where we support projects and learning opportunities that enhance the organizational and leadership capacity of grantees.