Two extraordinary women are each getting $3 million in multiyear, flexible grants along with capacity-building resources to pursue ambitious and transformative climate action.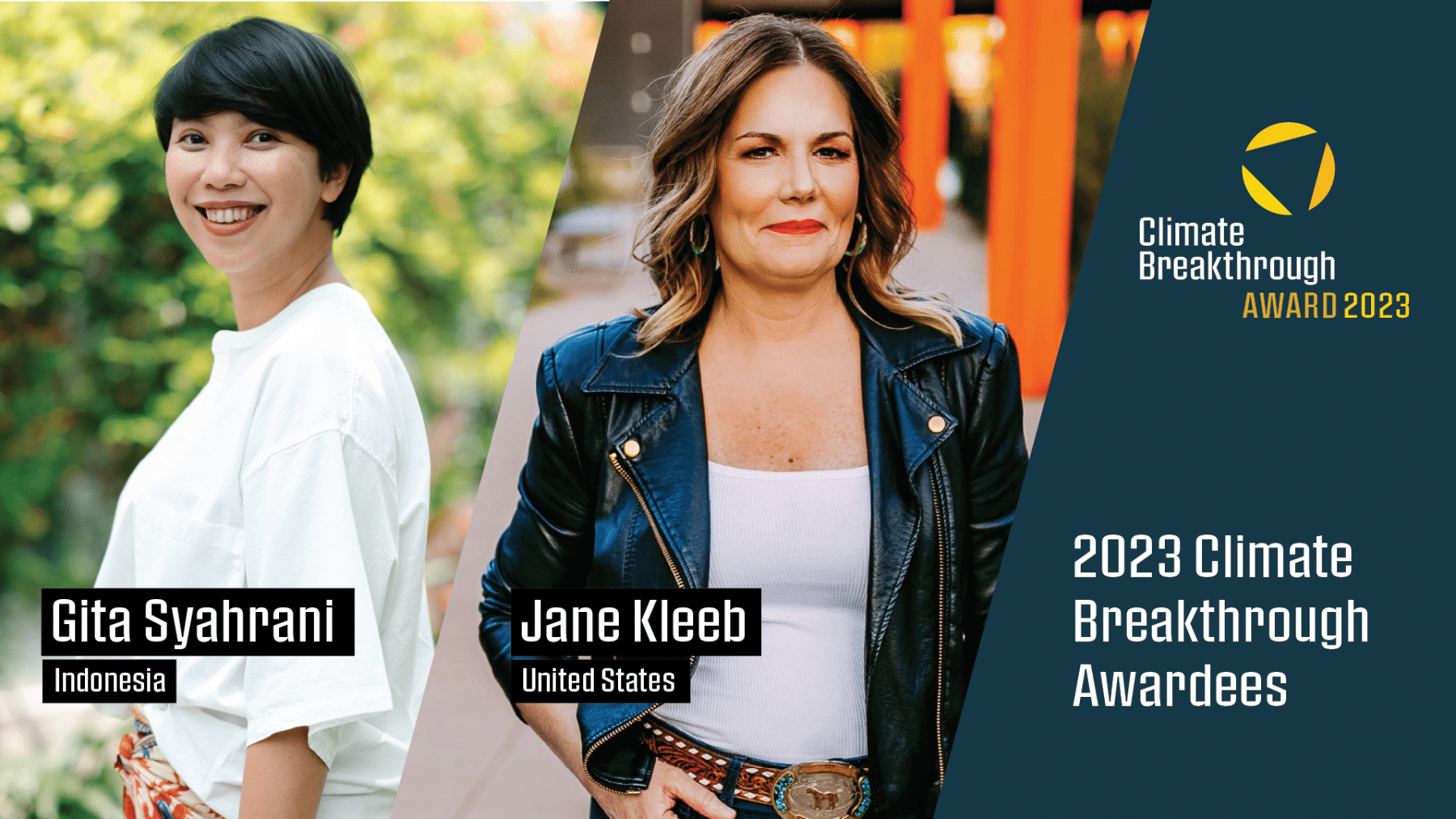 Climate Breakthrough, the organizer of the distinguished Climate Breakthrough Award, today has named GITA SYAHRANI of Indonesia (left in above photo) and JANE FLEMING KLEEB of the United States (right) as its 2023 Awardees. The Climate Breakthrough Award is the largest environmental grant for individuals. Gita and Jane join 17 previous Climate Breakthrough Awardees who have used their funding to create and scale novel initiatives with strong climate breakthrough potential.  
Gita has spent her career convening industries, jurisdictions, development partners and communities to spur sustainability action in Indonesia. With her award, she plans to demonstrate a new economic model for Indonesia by catalyzing nature-based businesses in forest- and peatland-rich regions, delivering success stories to drive policymaking, and promoting social campaigns to spark people's imaginations of a sustainable society.  
Jane, widely known as a key figure behind the successful fight against the Keystone XL pipeline, has proven the power of unexpected alliances among rural Americans. With her award, she intends to build alliances among those communities around their land preservation, break down opposition to renewable energy development, and advocate clean energy development that is beneficial to local residents through what she calls the "American Energy Dividend."  
With the two new awardees, Climate Breakthrough has now given 19 multi-million-dollar, multiyear awards supporting initiatives that could reduce global annual emissions by hundreds of millions of tons, affect entire industries or regions of the world, and materially change the lives of millions of people. As part of the Packard Foundation's commitment to protect and restore the natural world, the Foundation champions innovative climate solutions through supporting the Climate Breakthrough Award. Climate change is an urgent threat that has the potential to undermine everything we care about as a Foundation. And because climate change is such a complex challenge, it will only be solved with a wide array of strategies and approaches that will result in progress at a significant pace and scale.     
The strategies and solutions the world is pursuing today are not sufficient to achieve a safe climate future. We need bold new ideas and approaches. By identifying outstanding individuals with different backgrounds from different countries and giving them the resources to think big and launch novel, high-impact initiatives, Climate Breakthrough is generating the new solutions that the world needs.
— Walt Reid, founding board chair of Climate Breakthrough &
Vice President, Environment & Science, The Packard Foundation
At its core, the Climate Breakthrough Award is an investment in the potential of climate breakthroughs from all around the world. The award is known for supporting strategists with a range of backgrounds and life experiences, based on the belief that their variety of solutions will also be diverse. Relying on three tenets—larger grants, a longer time horizon, and more flexibility—the Award is a rare philanthropic model that invests in capable individuals to lead big-bet, transformational efforts rather than those with near-term metrics of incremental progress. Candidates are scouted (no unsolicited applications) globally, vetted rigorously and exhaustively, and then invited to in-depth interviews on their leadership skills and breakthrough ideas. In addition to the $3 million grant, awardees receive separate funding for capacity-building services such as executive coaching, fundraising and communications support, legal support, and third-party impact and learning evaluations. Eligible awardees may also receive a $600,000 matching grant toward the end of the grant period to attract follow-on funding and further support their work.  
You can the full announcement on Climate Breakthrough's website.