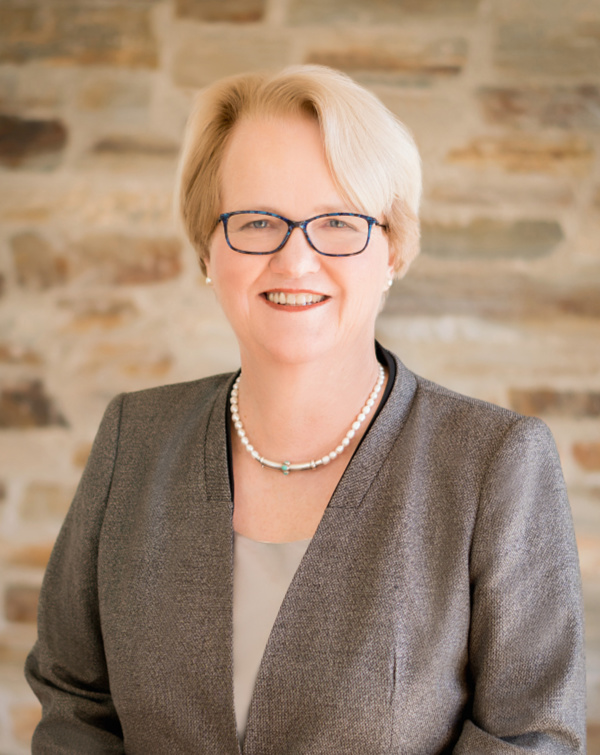 Carol Larson, President and CEO of the David and Lucile Packard Foundation, announced today that she will step down as head of the 55-year old family foundation at the end of 2019 when a successor is named. Larson has served as President and CEO of the Foundation since 2004 and has been on staff since 1989.
"It has been the privilege of a lifetime to serve the Packard Foundation Board of Trustees, to support the transformative work of hundreds of grantees and partners around the world, and to lead one of the most exceptional staffs in all of philanthropy," said Larson. "Because of our work together, I leave this role after 15 years with optimism about philanthropy's potential to support leaders who are tackling the world's most complex challenges, and a belief that we can all make a difference."
Larson led the Foundation during a period of significant growth and expanded global engagement. Over the past decade and a half, the Foundation averaged $300 million in annual grantmaking and deployed $500 million in total mission investments. These grants and investments not only supported short term initiatives with immediate impact, but also provided steady funding and long-term consistency for hundreds of partners, ranging from community-based organizations around the world to renowned institutions in the Bay Area, to create lasting change.
During her tenure, the Foundation contributed to local, national, and global change in the areas of longstanding interest to the Packard family. On a global scale, the Foundation has invested in organizations to confront climate change and to encourage breakthroughs in policy and practice to address it. The Foundation has also led global efforts to implement sustainable fishing practices and establish critical marine reserves in the world's ocean. Larson also championed global initiatives and grantmaking efforts in numerous countries to ensure women and girls have access to quality reproductive health care and rights.
Nationally, the Foundation worked with U.S.-based nonprofits to provide children access to health insurance and to quality preschool and transitional kindergarten in California. Through grantmaking and mission investments, the Foundation contributed to the protection and restoration of more than two million acres of open space land throughout the North American West.
Even as the Foundation expanded its global and national reach during Larson's tenure, it also maintained the Packard family's commitment to the local region, supporting the capacity of hundreds of community-based nonprofits and prominent regional institutions such as the Lucile Packard Children's Hospital, the Monterey Bay Aquarium, and Monterey Bay Aquarium Research Institute. Larson has used her platform to encourage more Silicon Valley philanthropists to support local organizations, following the example set by the Hewlett Packard Company. In 2012 the Foundation opened new headquarters in Los Altos, CA. The headquarters serves as an inspiring example of a certified net zero energy building that relies on the sun to power its operations, a manifestation of the organization's commitment to sustainability.
"Carol has been an exceptional steward of our founders' vision, bringing authenticity, humility, and integrity to the work we do as an organization," said David Orr, chair of the Packard Foundation Board of Trustees. "By helping us combine the best of family philanthropy with a professionally staffed team, she has put us on a clear and steady course that will serve our partners well moving forward. We are forever grateful for her leadership, guidance, and optimism."
Collaboration for greater impact has been a hallmark of Larson's philanthropic leadership. In 2009, she worked with the Foundation's Trustees and staff, the William and Flora Hewlett Foundation, and other partners to create the ClimateWorks Foundation—a philanthropic collaboration unprecedented in size and ambition—to tackle climate change. Recently, Larson shared her vision of reproductive health and rights for all women with U.S.-based philanthropists to create a new donor collaborative focused on raising tens of millions of dollars to help ensure that women in the U.S. have access to quality reproductive health care and rights.
"Infusing my parents' values among the staff and the work of the Foundation has been a top priority for Carol," said Susan Packard Orr, Trustee and former chair of the Board. "She models these deeply held values in her leadership style, while showing respect for and belief in the leadership of others. I feel fortunate to have worked side by side with Carol for 30 years, and grateful that the next generation of Packard family members had an opportunity to learn from her along the way." Larson has worked closely with the Foundation's Trustees to develop the next generation of family leadership, as reflected in David Orr's recent selection as Board chair.
Larson's personal passion for ensuring all children have the opportunity to succeed is what initially brought her to the Foundation. She served as its director of programs from 1995 through 1999 and was appointed a vice president of the Foundation in 2000. Carol currently serves on the boards of the ClimateWorks Foundation and the Sobrato Family Foundation. Previously, she was a board member of the Council on Foundations, and served as its board chair from 2010 to 2012. She is also a prior board member of Northern California Grantmakers, American Leadership Forum – Silicon Valley, and Grantmakers for Children, Youth and Families. In 2016, she received the Council on Foundation's Distinguished Service Award honoring people who have made significant contributions to the field of philanthropy. She is the recipient of this year's American Leadership Forum – Silicon Valley's John W. Gardner Award. Before joining the Foundation, Carol was a partner in a Los Angeles, California law firm specializing in civil litigation. She also worked in the nonprofit sector on behalf of persons with developmental disabilities.
The Foundation's Board of Trustees will immediately launch a search for the next President and CEO, working with the search firm Russell Reynolds Associates. Larson will remain in her role through the end of the year until a successor is identified to ensure a seamless transition.