Project Overview
ShaadiPhoto—meaning "wedding photos" in Hindi—was implemented by Pathfinder International to improve access to and availability of quality youth-friendly contraceptive counseling and contraceptive methods in New Delhi, India. The project focused on engaging aspiring photographers who capture key family events, including engagement, weddings, and newborn photo sessions, and using these key family moments as a service delivery point for contraception counseling and methods for adolescents and young people. These occasions signify life-stages that correspond with various sexual and reproductive health (SRH) needs. ShaadiPhoto trained individuals living in slum areas near Delhi National Capital Region to run their own photography businesses while also disseminating SRH information, supporting the provision of contraceptives, and providing contraceptive counseling and access to referrals through partnerships with pharmacists. After an initial training on SRH information and counseling, the ShaadiPhoto team worked with a contraception counselor who was tasked to visit each photographer-entrepreneur at the photo studios to provide refresher trainings on youth friendly counseling and supportive supervision with the goal of ensuring quality FP counseling. In addition, each photographer-entrepreneur received additional professional photography training from a CANON mentor and trainer to enhance and improve their photography skills
The concept of Project ShaadiPhoto was very innovative, and we will continue creating awareness in the community on youth-friendly contraceptives, health, and hygiene and will continue running our studios.

—ShaadiPhoto Photographer
The Need
Early and closely-spaced childbearing in India inhibits a young woman's access to social support, skills acquisition, and earning power—essential for overcoming poverty for her and her family. Young couples—especially young women—face strong pressure from parents and relatives to conceive soon after marriage, making engagement a critical time for young couples to develop family plans based on free and informed choice. Slum communities receive minimal or no civic services, and there are very few interventions that increase access to contraception for adolescents and youth living in these communities. This project was designed with the aim of increasing access and availability of quality contraception information and effective referral to contraceptive services for adolescents and youth living in slum communities.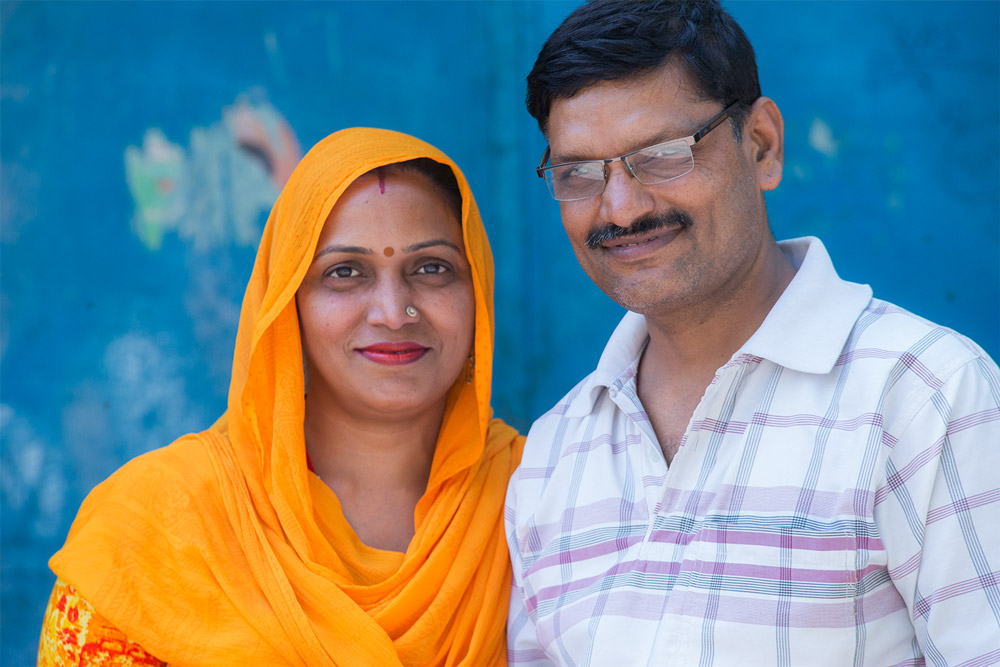 Key Learnings
Educating young people about family planning is a win-win for both young people served and those involved with the development and/or delivery of services. By providing adolescent and youth-friendly contraceptive training and funding for photography equipment, the ShaadiPhoto project encouraged young photographer-entrepreneurs to learn about contraception and provide greater access to contraception information and services to their community.
Engaging youth and unmarried young adults in discussions about family planning is challenging because of stigma and different motivations and demand for services. Youth clients were reluctant to disclose relationship status or to discuss contraception. ShaadiPhoto studios framed contraceptive conversations as "life skills, health, and hygiene" instead of "contraception" to make counseling more acceptable.
In certain instances, youth clients benefited from home visits to receive quality information about family planning in a private setting and allow clients to feel more comfortable. The photographer-entrepreneurs marketed their services by handing out pamphlets. They reached out to youth and their parents through home visits and invited them to have their portraits taken at low subsidized fee, which helped spark community interest in the photography studios. Although ShaadiPhoto studios provided a private space for individuals and couples to discuss contraception, some customers did not feel comfortable discussing these matters with photographers, and in these instances, home visits were implemented.
It was difficult in the initial stage to speak to the clients on youth-friendly contraceptives and distribute it to them. But with the continuous support from the Contraception Counselor, and the refresher trainings provided by her, we have become very comfortable in approaching the clients.

—ShaadiPhoto Photographer