We can help farmers protect our planet and ensure local communities thrive at the same time.
Tropical forests harbor rich biodiversity and provide critical resources to the planet, including vital ecosystem services for local communities such as water and forest products. Local communities living in and around tropical forests have historically had mutually beneficial relationships with the natural environment. Yet, agricultural production in tropical forest regions is on an unsustainable trajectory, contributing to significant deforestation, biodiversity, and loss of services that these ecosystems provide.
To conserve tropical forest biodiversity while ensuring that the people who rely on them can thrive, solutions must include the needs and aspirations of smallholder farmers. Smallholder farmers make up about 84 percent of farming globally, and typically work on two hectares of land or less. Many of these farmers are working to protect the planet's rich biodiversity while building thriving economic futures for their communities. When farmers have access to land and a central role in decision-making about the landscapes that surround them, management of those landscapes is informed by their expertise instead of executed at their expense.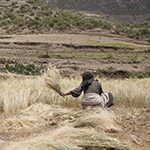 of farms globally are small-scale (two hectares or less)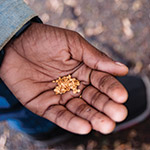 of the world's biodiversity is held in tropical forests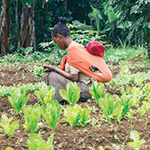 people globally are living in poverty in rural areas and depend on agriculture for their livelihoods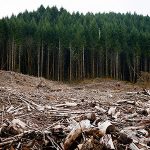 of projected biodiversity loss on land is linked to agricultural activity
Through grantmaking, we are working to find new ways to leverage these assets and address these challenges.