View Resource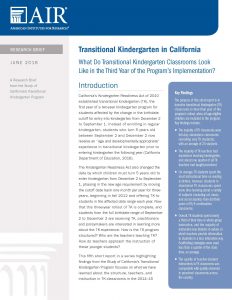 To determine whether California's Transitional Kindergarten (TK) Program is effective in improving school readiness and learning outcomes for students, American Institutes for Research (AIR) is conducting an evaluation of the impact of TK in California. The goal of this study is to assess the impact of TK on California students' readiness for kindergarten across multiple domains of development critical for success in school.
Three years into the implementation of transitional kindergarten, this report examines the characteristics of TK programs across the state—the structure of TK classrooms, characteristics of teachers, and the content and organization of classroom instruction.
The surveys of 200 TK teachers and 184 classroom observations in 20 school districts in 2015 provides a snapshot of what TK classrooms look like across California.