View Resource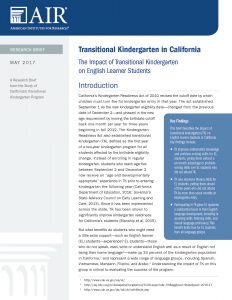 This research brief explores the impact of transitional kindergarten (TK) on English learner (EL) students, those who do not speak, read, write, or understand English as well because it is not their home language. EL students make up 33 percent of the kindergarten population in California, and represent a wide range of language groups, including Spanish, Vietnamese, Mandarin, Filipino, and Arabic.
The study found that TK improves mathematics knowledge, problem-solving skills, and literacy skills for EL students. It also found that TK gives these students a substantial boost in their English language development, including speaking skills, listening skills, and overall language proficiency. The brief adds that more work is needed to improve long-term outcomes for EL learners in other areas, like social skills or executive function, however, the results suggest that TK may play a key role in improving academic outcomes for English learners overall.
This brief is the fifth in a series from American Institutes for Research (AIR) highlighting findings from the Study of California's Transitional Kindergarten Program. AIR is nearing the end of its three-year examination of the statewide TK program in California. Later this year, AIR plans to issue its full final report which will assess the impact of TK on California students' readiness for kindergarten across several domains of development critical for success in school.