View Resource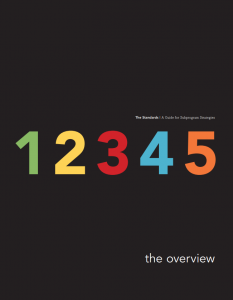 The Standards is a practical guide for developing, refining, and implementing foundation subprogram strategies. This guide was designed for grantmaking staff at the Packard Foundation and may have utility for other funders as well. The Standards pulls together in one place many of the approaches, tools, and guidelines that have been developed at the Packard Foundation in our more than two decade-long commitment to building effectiveness. This guide includes the following resources:
The Overview – This booklet provides an introduction and background for The Standards. It also features "At-a-Glance" summaries of each phase and graphics that lay out the paths to developing and implementing a subprogram strategy.
The Workbook – The workbook section includes enhanced "At-a-Glance" summaries of each phase, descriptions and tools for each required product, and worksheets for each phase and product.
The Resources – This section includes additional materials and references that will help you to dig deeper into the phases, products, and philosophies for developing and implementing subprogram strategies.
In addition to grantmakers, this guide may be informative to strategy and evaluation consultants, partners, grantees, and other sector experts. We have found that having this common vocabulary helps all of us to better understand each other and our approaches, and opens new channels for rich discussion.