View Resource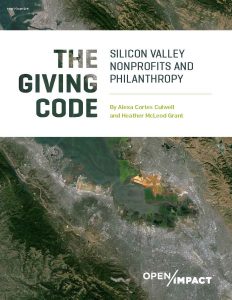 The David and Lucile Packard Foundation started here, in Silicon Valley, 53 years ago, and we remain committed to giving locally, nationally, and globally. But today, our local partners are pointing out growing disparities in our community, unprecedented needs and nonprofit organizations' efforts to meet these needs.
The Foundation commissioned The Giving Code to learn more about urgent community needs and the region's nonprofit and philanthropic ecosystems. The report addresses these topics and examines the giving approach that the region's philanthropists widely share—a code that is heavily influenced by technology and other local business sectors.
The report explores ways to further connect these local philanthropists and nonprofits serving Silicon Valley's diverse citizens. With learning from The Giving Code in hand, we will identify ways to continue work and further collaborate to make our local community the place where all people and families can thrive.