View Resource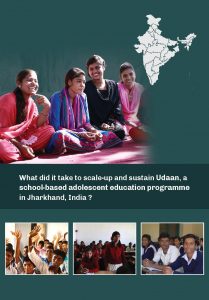 In 2003, the government of India issued a national policy directive to provide adolescent health education in schools, building on the school-based AIDS education program that had been put in place in response to the HIV epidemic. It was aimed at building a generation of healthy and empowered young people by providing upper secondary school students with education on health and development.
In 2006, The Packard Foundation funded the Indian chapter of CEDPA, an international organization which eventually became the Centre for Catalyzing Change, to meet this challenge. The project aligned with Packard's strategy to provide high quality comprehensive sexuality education in schools and communities in India.
The result was a program called Udaan, which means "to soar in flight" in Hindi. The program was launched in the Indian state of Jharkand, and proved to be extremely successful. Among other topics, the curriculum focused on gender and sexual harassment, marriage and parenthood, early marriage and its consequences, and sexual and reproductive health, including contraception. To date, Udaan has reached over 500,000 adolescents in secondary/senior secondary schools and 20,000 students in upper classes of primary schools. It is one of the largest interventions of its kind in North India and has been recognized by national and state governments as a model program for replication in other states.
This paper examines the program and explores the factors that contributed to its success.