View Resource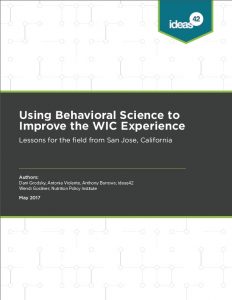 This publication explores some of the main behavioral barriers affecting families' interactions with the Special Supplemental Nutrition Program for Women, Infants, and Children, better known as WIC.
WIC serves about 8 million people in the U.S. every month and has been shown to improve the health and welfare of low-income families. Despite the program's clear benefits, not all eligible families enroll, and many drop out of the program before their eligibility lapses. Because the Packard Foundation believes that nutrition plays an integral role in providing young children with a strong start in life, we were eager to support work exploring how more families can better access the nutrition they need.
Drawing from behavioral science, fieldwork, and interviews with WIC participants and staff in San Jose, California, ideas42's new report provides an in-depth look at barriers to WIC, and offers a range of potential solutions that can improve how participants interact with the program. The findings in this report provide innovative, behavioral science-based approaches to improve enrollment and persistence in the WIC program and ultimately improve prenatal, infant, and child health outcomes, both in California and across the nation.