View Resource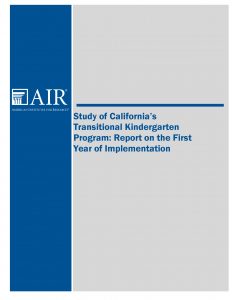 In 2010, Governor Arnold Schwarzenegger signed the Kindergarten Readiness Act (Senate Bill [S.B.] 1381) into law, which established a new grade level—transitional kindergarten (the first year of a two-year kindergarten experience for students born between September 2 and December 2). When fully implemented, transitional kindergarten (TK) is intended to provide an additional year of early education, with the goal of promoting school readiness.
American Institutes for Research (AIR) conducted an investigation of the planning and implementation of TK in the 2012–13 school year. The study addressed the following broad research questions:
1. What was the landscape of TK programs in California in the program's first year?
2. How did districts and schools plan for, structure, and support their TK programs?
3. How was TK implemented at the classroom level, and how did TK differ from kindergarten?
4. Are districts using TK as an opportunity to build greater articulation between preschool and grades K–3? If so, how?
5. What were the challenges and lessons learned in planning for and implementing TK?
AIR conducted a mixed-methods study examining these issues at multiple levels of the system.