View Resource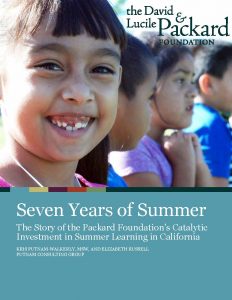 This report provides an overview of the Packard Foundation's seven-year investment in summer learning in California including lessons learned for funders about creating a "scaffolding" strategy designed to provide support and infrastructure to help a field grow, making a time-limited investment, and working with a broad range of partners.
The Packard Foundation learned that to make catalytic change, it was essential to engage a number of partners—from local grantees, to statewide advocacy organizations, to national experts. It was also essential to build the capacity of grantees to ensure their sustainability, and partner with grantees and stakeholders to design the strategy along the way.
The report also documents accomplishments from the investment—including establishing a consistent definition of quality as the standard of practice by the state, strengthening technical assistance support, and increasing the number of champions for summer learning.
For more on the Foundation's After-school and Summer strategy see here.