View Resource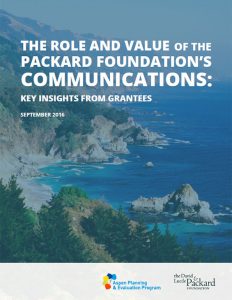 Communications can support grantmaking in many different ways, and foundations vary widely in how they use communications to advance their work. How loud a voice should foundations have? How should they use it?
The David and Lucile Packard Foundation wanted to know what its grantees had to say about this, and partnered with the Aspen Institute's Aspen Planning and Evaluation Program (APEP) to help answer these questions.
The results of this study, grounded in a survey and interviews with Packard Foundation grantees, indicate the unique role and value of the Foundation's communications—beyond grantmaking or provision of communications technical assistance to grantees. The report also shares lessons about where the Foundation's distinctive voice may make the most valuable contribution, and what kinds of challenges to be mindful of. These findings are informing how the Foundation integrates communications into grantmaking strategies.
This report, along with the accompanying technical appendix, may be a useful resource for grantees, foundations, and other stakeholders interested in exploring the role of funder communications.