View Resource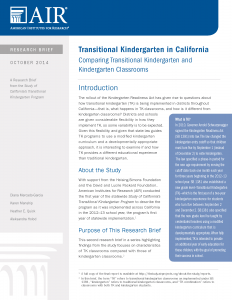 American Institutes for Research (AIR) conducted the first year of the statewide Study of California's Transitional Kindergarten Program to describe the program as it was implemented across California in the 2012–13 school year, the program's first year of statewide implementation. This research brief (second in a series highlighting findings from the study) focuses on characteristics of transitional kindergarten (TK) classrooms compared with those of kindergarten classrooms.
It appears that TK teachers are adopting instructional practices that are more developmentally appropriate for the younger students enrolled in the program. Students in standalone TK classrooms tended to spend more instructional time on social-emotional skill development and less time on reading/ELA and math than students in standalone kindergarten classrooms. In addition, students in standalone TK classrooms spent more time in child-directed activities and less time in whole-group activities compared with students in standalone kindergarten classrooms.
However, findings in this research brief also point to the challenge of providing differentiated instruction, especially in combination classrooms. Given the findings, policymakers should consider the potential benefit of using funds to provide focused training for TK teachers, particularly on strategies for differentiating instruction.