View Resource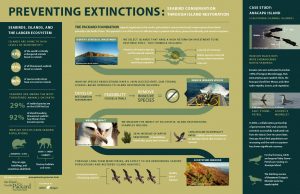 Seabirds, which play a critical role in maintaining ocean health, are among the most threatened animals on Earth. Some of the islands they depend on to breed and feed are home to invasive species that prey on seabird eggs, hatchlings and destroy habitat and nests.
The Packard Foundation supports organizations to restore island habitat, primarily in the Pacific Ocean, where it is feasible to remove introduced, invasive species. Learn more about this cost effective approach to prevent seabird extinctions, preserve biodiversity and restore island ecosystems through the downloadable infographic resource.
For references, click here.
Our Partners
Grupo de Ecología y Conservación de Islas
Royal Society for the Protection of Birds