View Resource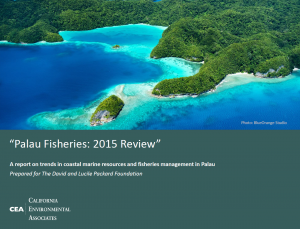 The David and Lucile Packard Foundation is pleased to share with you a baseline report on fisheries management and coastal marine trends in Palau. This report, "Palau Fisheries: 2015 Review," identifies trends in key categories that are relevant for monitoring fisheries management and reform.
As part of our commitment to continuous learning, the Packard Foundation currently plans to issue this report on a regular basis to track changes in the status of marine resources and fisheries management in Palau. The Foundation's strategy in Palau is focused on protecting the health and productivity of the country's coastal marine environment, and as such, the Foundation depends on timely updates in order to make well-informed decisions. This report seeks to aggregate the best available data on fisheries statistics and trends in order to provide that evidence base. We also hope that the information presented here may be useful for other partners in the field.
We also expect that this report will be useful for our partners. Having access to consistent, valid information will support the field in drawing upon verified data sources to facilitate decision-making and streamlined collaboration.
Thank you for your interest. We welcome your feedback on this report as we seek to improve and enhance future editions.