View Resource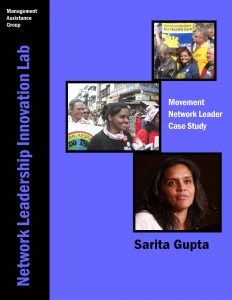 These case studies, developed by the Management Assistance Group's Network Leadership Innovation Lab, focus on three movement network leaders. From interviews, these case studies distill a set of principles for effective network leadership, and explore how the leaders' work embodies those principles.
The first case study focuses on Sarita Gupta, Executive Director of Jobs with Justice (JwJ), which recently merged with American Rights at Work.
The second case study focuses on Eveline Shen, Executive Director of Forward Together (FT). FT evolved from Asian Communities for Reproductive Justice, changing its programs, geographic scope, and role in the reproductive justice movement.
The third case study focuses on Gustavo Torres, Executive Director of Casa de Maryland (CASA)–a regional powerhouse on immigrant issues, with a staff of 120 and some 35,000 members.