View Resource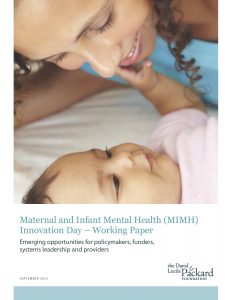 One of the most important determinants of a child's early health is the well-being of their mothers. Parents, and particularly mothers, face many challenges, including maternal depression, during pregnancy and postpartum that can have long-term effects on their children.
This spring the Packard Foundation hosted an Innovation Day focused on Maternal Postpartum Depression with experts from health systems, health technology companies, research and health philanthropy. Acknowledging the interconnection between parents and infant together, the working paper from this meeting broadened its focus to Maternal and Infant Mental Health (MIMH) with a focus on identifying opportunities that improve screening, diagnosis, early intervention and treatment towards the broad goal of ensuring children are healthy and ready to learn.
This working paper synthesizes key themes and insights and highlights initiatives that can help address key problems. The objective of this working paper is to continue engagement with stakeholders and to help channel the communities' energy to support MIMH through collective action, iterative learning and sharing.