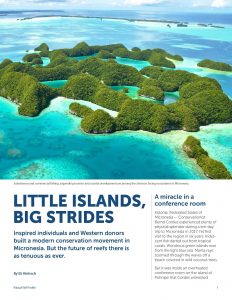 After 20 years of ocean conservation grantmaking in the Western Pacific region, the Foundation has concluded its funding in the Federated States of Micronesia and Palau. Committed to learning from our experience providing funding support to more than 20 organizations, we developed a series of activities and products designed to document and learn from the work of our partners, and the role the Foundation played in the region.
As part of this, we asked California Environmental Associates to lead an evaluative effort to assess and document the Foundation's role in building a conservation movement, and how it can inform our philanthropic approach. We found that investment in local institutions and leaders who support communities and work with government agencies on ocean conservation produced the most meaningful, lasting outcomes and impacts. The value of investment in local partners can be measured by both what they have achieved over 20 years of partnership, and by what they achieve in the years to come.
Here you will find the documentation of our findings. Eli Kintisch, a producer and writer, wrote Little Islands, Big Strides, a compelling story of how localized, individual efforts to protect the ocean grew into a mature ocean conservation regional movement. We also commissioned him to produce and write three short videos, with Nicholas Lindner as field producer and director of photography. Those videos explore how the movement grew, how sustainable financing has been secured and the growth of good management practices in the voices of grantee partners. Ivan Kander provided motion design.
Building Leaders, Building a Movement: Conservation Comes of Age in Palau
When leaders in Palau had the support to learn, grow, and strengthen their organizations, they built a sustainable ocean conservation movement.
Investing in the Future: Sustainable Funding for Conservation and Management in Micronesia
Getting its start as a small regranting organization, the Micronesia Conservation Trust grows into an independent fundraising and regranting hub that finances broad ocean conservation efforts for communities and institutions across Micronesia.
Protecting Habitat and Fisheries: Preserving Palau's Reefs
Palauan leaders use a combination of marine protected areas and good ocean management to strengthen fisheries, improve habitat and protect community livelihoods.