View Resource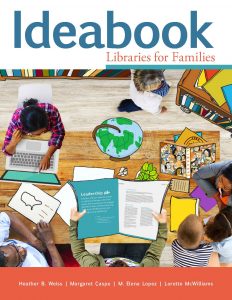 The IDEABOOK is a research-based framework to guide and broaden family engagement in libraries.
The framework helps libraries move beyond thinking of family engagement as random, individual activities or programs, but rather as a system where library leadership, activities, and resources that are linked to goals. The framework represents a theory of change that begins with a set of elements—leadership, engagement, and support services—that build a pathway for meaningful family engagement beginning in the early childhood years and extending through young adulthood.
This IDEABOOK was developed for anyone who works in a library setting—from library directors and children's and youth librarians, to volunteers and support staff—and shares many innovative ways that libraries support and guide families in children's learning and development.