View Resource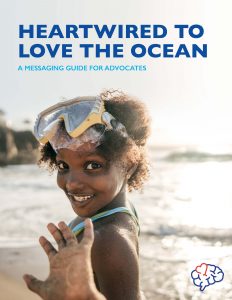 Working with dozens of conservation organizations, Goodwin Simon Strategic Research and Wonder: Strategies for Good embarked on a three-year research project to better understand how to develop messaging approaches to strengthen the ocean conservation movement. The result is Heartwired to Love the Ocean—a new messaging guide designed for advocates to put this research into practice.
The guide demonstrates that people from all walks of life—diverse in terms of race, ethnicity, gender, age, faith, geography and politics—care deeply about the ocean. The ocean provides opportunities for creating treasured memories, transmitting family traditions and values, and is vital for people's livelihoods. The ocean brings healing to many, as well as a chance for self-reflection and connecting spiritually to God and/or nature.
In the guide, you'll see detailed information about six unique mindsets that drive people's love of the ocean, and how to effectively reach and engage individuals. You'll also find information from message testing a range of ocean protection issues, including marine protected areas, fisheries management, and offshore oil and gas drilling. The strategies outlined in the guide have the potential to help advocates and funders alike to foster and support a diverse, inclusive conservation field.