View Resource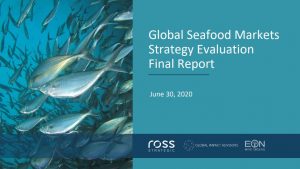 The Packard and Walton Family Foundations commissioned a joint evaluation of our complementary Global Seafood Markets strategies to understand the progress the global sustainable seafood movement has made over the past two decades, including the past five years of our coordinated grantmaking, to inform our future strategies. Completing this evaluation together allowed the Foundations to consider the effectiveness of our individual approaches as well as analyze the impact of our efforts to collaborate more intentionally over the past several years.
The evaluation finds that our grantee partners are delivering progress against the foundations' Global Seafood Markets strategies, but more work is needed to ensure that the demand for sustainable seafood in the key seafood-buying markets of North America, Europe and Japan results in durable changes in fishing practice, fisheries management, worker protection, and trade policies globally. We must also consider how these market-based strategies can reduce rather than perpetuate inequality globally.
Here you will find an executive summary of the evaluation's most significant findings and recommendations, as well as the full report examining progress and challenges in the areas of business commitments to sustainable seafood; business collaborations; seafood certifications and ratings; fishery improvement projects; and social responsibility.