View Resource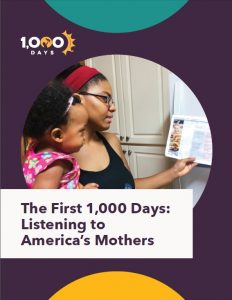 Here at the Packard Foundation, we are striving to support efforts that secure a healthy early start for children, so that all children can be ready for school and on track to reach their full potential. Diet and nutrition in the earliest stages of life play a crucial role in this process. However, existing research on the diet and feeding practices of low-income families in the United States is limited.
1,000 Days, a non-profit organization working to improve nutrition around the first 1,000-day-window between a woman's pregnancy and her child's second birthday, has helped fill in some of these knowledge gaps. 1,000 Days' research team conducted in-depth interviews and ethnographies with over 50 low-income mothers of young children across the United States. They sought to better understand the real, lived experiences of mothers during this crucial period of child development.
This qualitative research report explores 1,000 Days' eye-opening findings, and brings to life these families' very personal accounts. It concludes that in general, these mothers understand the importance of good nutrition, but many lack the support they need from their communities, workplaces, and society to provide it to their children. This illuminating work helpfully reveals the barriers these families face when it comes to nutrition, and identifies ways their communities and society as a whole can help tackle these obstacles.