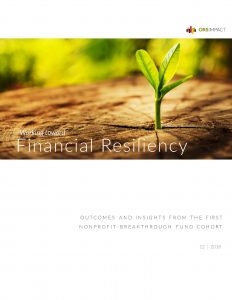 In 2016, the Local Grantmaking Program partnered with Fiscal Management Associates to launch an intensive, two-year cohort for nonprofit leaders working to increase their organization's financial resilience.
This report presents findings from an evaluation of the financial resiliency cohort. The purpose of the evaluation was to understand changes in grantees' capacity and practices related to strategic financial management. The evaluation revealed that organizations that participated in this financial resiliency capacity building cohort not only met the capacity and outcomes goals they set but some also achieved much more transformational change.
The evaluation revealed key factors in achieving transformational change such as planning and goal setting exercises and the use of dashboards to communicate key financial data. The evaluation also found key aspects of the cohort design that were critical to achieving desired outcomes, including individualized coaching and implementation funding.
Other funders considering similar cohort capacity building efforts or nonprofits looking to understand what works and doesn't work in strengthening financial resilience, might be interested in this report.