View Resource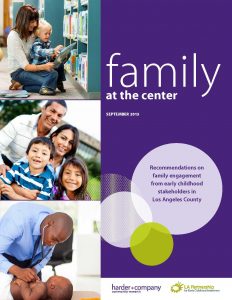 To better understand how family engagement supports school readiness in Los Angeles County, an advisory group of early childhood leaders and stakeholders came together to provide advice and explore opportunities to strengthen parent engagement. The advisory group discussions focused on formal early learning and health settings, as well as informal and community settings where parents, families, and caregivers interact and connect.
This report summarizes key insights and recommendations that emerged through these discussions and additional research about parent engagement programs and practices. It sheds light on opportunities to leverage existing efforts and innovative and evidence-based models that are ripe for replication.
We hope the information and insights highlighted in this report can serve as a resource for all funders and stakeholders interested in strengthening parent engagement in Los Angeles and other communities around the country.