View Resource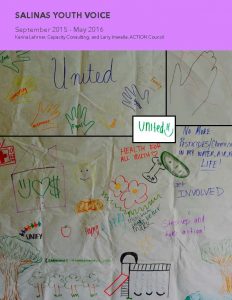 In September 2015, The David and Lucile Packard Foundation initiated the Salinas Youth Assessment to obtain a better picture about "what it is like to be a youth in Salinas" as part of its Salinas Youth Initiative. In the last few years, private foundations, including the Packard Foundation, have increased their funding in support of positive youth development opportunities in the City of Salinas.
Of interest, is the funding that has been allocated to the East Salinas (Alisal) community, a region vastly comprised of immigrant farmworkers and their families. In East Salinas, youth 19 years of age and younger represent 40% of the population (US Census 2010). While the recent investment in positive youth development may be reaching more youth with new opportunities, decades of disinvestment in East Salinas contribute to an environment of political, educational, social, and economic inequities. Strategies for reaching youth in East Salinas and the corresponding narrative of the community have historically been shaped within a context of 'violence prevention' and 'gang intervention'.
After years of traditional enforcement and intervention-based approaches, which at best, attempt to fix at-risk youth and keep them occupied, the new investments for youth represent a glimmer of hope. Prevention-based, creative and fun youth alternatives, leadership development opportunities, and other supports may be transformative for East Salinas youth and may help to transform their narrative into one of opportunity, social justice, hope, belief, expectations, and resilience.