View Resource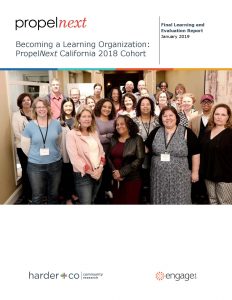 This report presents findings from a developmental evaluation of the second cohort of PropelNext—an intensive cohort-based, capacity-building program designed by the Edna McConnell Clark Foundation to enhance the performance of promising nonprofits that serve America's disadvantaged youth. This work was funded in partnership with the William and Flora Hewlett Foundation, the David and Lucile Packard Foundation, the Sobrato Family Foundation, and the Weingart Foundation.
The evaluation report includes information about the ways in which the technical support provided by PropelNext resulted in organizations making better use of data to generate insights that inform their work.
The Packard Foundation is taking lessons from this evaluation to inform future capacity strengthening work and hopes this report is helpful for others working in similar areas.