View Resource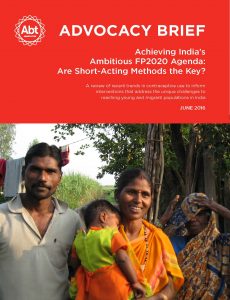 A 2016 report from Abt Associates reveals that India needs to do more to meet the family planning needs of young married couples, adolescents, and unmarried youth.
Abt's analysis warns that India may miss its goal of providing family planning services to an additional 48 million women by 2020 unless it finds a way to provide the kinds of contraception that young people are likely to use.
The Abt analysis reveals that over two-thirds of couples over the age of 25 are already using contraceptives, but that young people under the age of 25 are reporting significantly low contraceptive use. With over half of the country's population being younger than 25, this group offers the greatest opportunity for growth in the use of high quality modern contraceptives.  India has focused on sterilization and other long-acting contraceptive methods, which do not match all the contraceptive needs of young people. Therefore, it will be particularly important to provide young people with family planning methods, like oral contraceptives and injectibles, that they will be more likely to use.
The Packard Foundation is committed to ensuring that women, youth, and their families get the information and high quality reproductive services they need. This report, which focuses on the needs of young people under the age of 25, provides extremely useful insights about how India can help achieve its ambitious goals of significantly expanding family planning services to women across the country.
The findings of this report will be of particular value to policy makers and funders, pointing to the need to ensure that young people in India receive the services that are most useful to them.