View Resource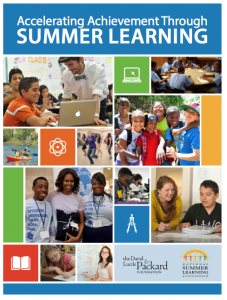 Expanded learning opportunities, extended learning time, and year-round or "balanced" calendars are emerging across the country as key strategies in accelerating student achievement, closing the achievement gap and promoting 21st Century skill development.
This publication is comprised of thirteen diverse and promising models that demonstrate how high-quality summer learning programs address a variety of education objectives and deliver strong outcomes for children, youth, and educators. These case studies present a clear picture of what high-quality summer learning looks like and  how it accelerates student achievement.
The report focuses on key education priorities, including third-grade reading proficiency, middle school transitions, college and career readiness, and teacher training and retention. It also includes a look at key research on what works in summer learning and an overview of supportive state policies.