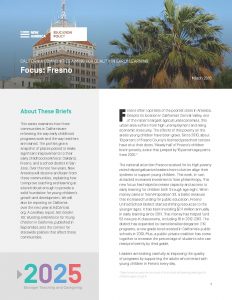 The foundations for a lifetime of health and learning are built in the first five years of a child's life. Adults in children's lives are essential to creating healthy, nurturing, and engaging connections, so that our children are on track to reach their full potential in school and in life. In 2015, the Foundation partnered with three California communities—Fresno, Oakland, and San Jose—to launch Starting Smart and Strong, our shared 10-year commitment that every child grows up healthy and ready for kindergarten.
These Starting Smart and Strong community profiles are a part of a series of briefs to better understand what it takes to provide adults with the training and support they need to ensure all young children learn and grow. They examine how these three communities are transforming early childhood programs and teacher training.
For additional background, a preliminary report, Not Golden Yet: Building a Workforce for Young Children in California, provides statewide context and outlines policies that directly affect these communities.