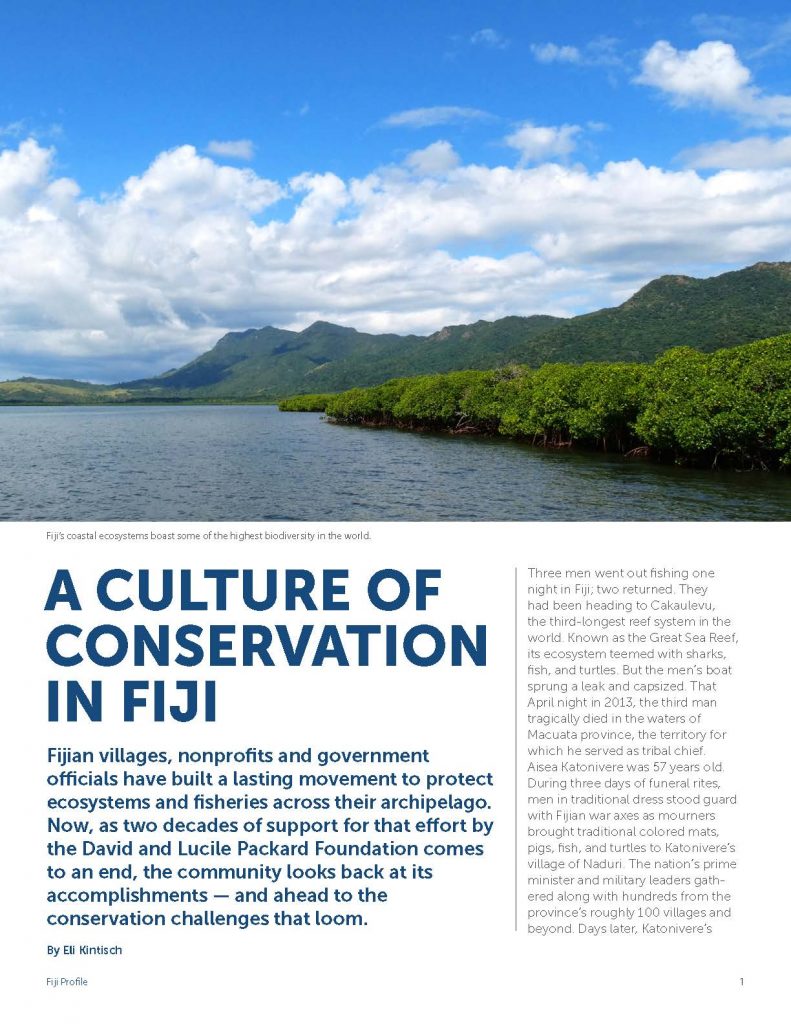 After 20 years of ocean conservation grantmaking in the Western Pacific region, the Packard Foundation has concluded its funding in Fiji. Committed to learning from our experience providing funding support to more than 20 organizations, we asked California Environmental Associates to assess and document the Foundation's role in building a conservation movement, and how it can inform our philanthropic approach moving forward.
We found that while marine areas under local management are important tools to engage local communities, they alone are not enough to manage ocean resources sustainably. Governments must also commit their resources and efforts to guide monitoring, governance and enforcement across larger jurisdictions where issues of marine management play out. The Foundation's focus has shifted over time toward supporting collaboration and co-management efforts between local communities and leaders and partners in government agencies and other institutions at the national level in Fiji.
Here you will find the documentation of some of these findings. Eli Kintisch, a producer and writer, wrote A Culture of Conservation, a compelling story of how localized, individual efforts to protect the ocean in Fiji has grown into a mature ocean conservation movement. We also commissioned him to produce and write three short videos, with Nicholas Lindner as field producer and director of photography and Ivan Kander who provided motion design,  featuring the government's role to support traditional methods of fisheries management, the role women play in fisheries management and an example of a successful public awareness campaign.
A Culture of Conservation: Protecting Fiji's inshore fisheries and reefs
Marrying traditional rights and community management with government support creates enabling conditions for sustainable fisheries.
For All of Us: How #4FJ united Fijians around conservation
A public awareness campaign plays an essential role in motivating citizens and government to protect fisheries and livelihoods in Fiji.
Women and Fisheries in Fiji
Women are the backbone of Fiji's coastal subsistence fisheries and their voices are vital to good decision-making for the future of Fiji's sustainable fisheries.