View Resource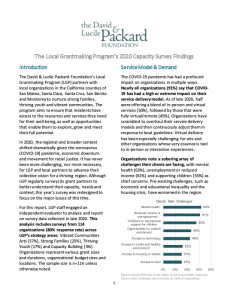 Since 2009, the Packard Foundation has surveyed our local Bay Area grantee partners to better understand and monitor the context in which these organizations work, as well as their organizational strengths and needs. In 2020, the survey was redesigned to focus on the major issues of this time including the impacts of the coronavirus (COVID-19) pandemic, economic downturn, and movement for racial justice. This executive summary presents the 2020 survey findings gathering data from 114 organizations our Local Grantmaking program supports.
The report highlights the profound impact the pandemic has had on organizations in multiple, significant ways – service demand is accelerating, service delivery models are significantly disrupted, earned revenue is plummeting, and staff is stretched. It paints a picture of an ecosystem of organizations who must be nimble to meet growing demands to fulfill their missions and meet the demands of families, children, and the community. Staffing, measurement, and racial equity and justice were identified by organizations as the most difficult and pressing capacity needs. Additionally, organizations see an opportunity for the Packard Foundation to not only continue, but augment, its investments and supports for justice and equity efforts.
The Foundation uses this annual survey to inform our local Bay Area grantmaking strategies, including initiatives where we support projects and learning opportunities that enhance the organizational and leadership capacity of grantees.