View Resource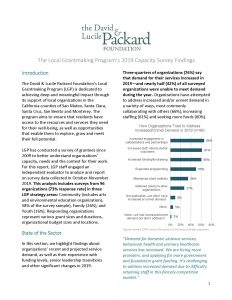 The Packard Foundation's Local Grantmaking program partners with over 200 organizations annually in five Bay Area counties to help ensure that families and youth have access to the resources and services they need for their well-being, as well as opportunities that support them as they explore, grow, and carry out their visions for success. Since 2009, we have surveyed grantee partners to better understand and monitor the context in which these organizations work, as well as their organizational strengths and needs. This executive summary presents the 2019 survey findings gathering data from 96 organizations our Local Grantmaking program supports.
The report highlights the pervasive impact of the region's overall context – the housing and rental crisis, escalating costs of living, changing immigration policies and concerns, a tight job market, and wage inflation, among others. It paints a picture of an ecosystem of organizations who must be nimble to meet growing demands to fulfill their missions. Staffing, measurement, and long-term planning were identified by organizations as the most difficult and pressing capacity needs. Additionally, organizations see an opportunity for the Packard Foundation to provide support to organizations to collaborate more effectively with each other.
The Foundation's Local program uses this organizational strengths survey to inform our grantmaking strategies, including our capacity building initiatives where we support projects and learning opportunities that enhance the organizational and leadership capacity of grantees.