View Resource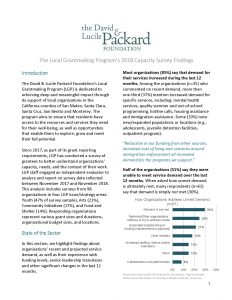 The Local Program partners with over 200 organizations annually in five Bay Area counties to ensure that families and youth have access to the resources and services they need for their well-being, as well as opportunities that enable them to explore, grow and meet their full potential. In 2017, the program launched an annual organizational strengths survey to better understand and monitor the context in which organizations work and organizational strengths and needs. This executive summary presents the 2018 survey findings representing 98 organizations, spanning across four issue areas and five counties.
The report highlights the pervasive impact of the region's overall context – the housing and rental crisis, escalating coast of living, immigration policies and concerns, tight job market and wage inflation, among others. It paints a picture of an ecosystem of organizations that are continuing to see more need and grantees who must be nimble to meet growing demand to fulfill their missions. Long-term planning, preparation and measurement were identified by organizations as the most difficult and pressing capacity needs. Additionally, organizations see an opportunity for the Local Program to provide more connection to, and collaboration with, other nonprofits and funders.
The Local Program uses the organizational strengths survey to inform its grantmaking strategies, including its capacity building initiatives through the Nonprofit Breakthrough Fund where it supports projects and learning opportunities that enhance the organizational and leadership capacity of grantees.