This opinion piece originally appeared on El Universal online
The ocean is life.
This has always been true. Life on Earth came from the ocean and depends on the ocean for its continued existence. As we face the enormous challenges of climate change, understanding how the ocean makes life on earth possible is vital.
That is why it is fitting that the 25th United Nations Conference on Climate Change — also known as COP25 — taking place in Madrid this December 2-13, will focus on the ocean's role in our climate system and will be known as "The Blue COP.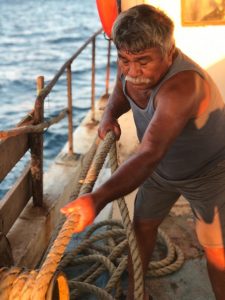 Protecting the health and resilience of our ocean is crucial in the battle against climate change. The ocean produces 30 percent of the oxygen we breathe and absorbs 25 to 30 percent of annual greenhouse gas emissions. In this role, the ocean has buffered human communities from the most damaging impacts of climate change so far
With proper attention and resources, the ocean could do even more to help us cut emissions and temper the impacts of climate change moving ahead. A report by the High-Level Panel for a Sustainable Ocean Economy (which Mexico is part of) found that the ocean could be responsible for up to a fifth of the greenhouse gas cuts needed to limit global temperature increases to 1.5 degrees Celsius — a vital threshold to avoid devastating consequences.
Two key solutions to limit climate change are protecting and restoring coastal and marine ecosystems — such as mangroves, sea grasses and marshes that can help keep more carbon out of the atmosphere — and increasing the use of low-carbon protein sources from well-managed marine fisheries to feed the Earth's growing population.
Mexico stands out among nations with large, rich marine territories that are key to developing strategies to achieve ocean resilience and climate change solutions on a global scale. Mexico has a coastline stretching over 11,000 km and a marine area that is 1.5 times larger than its land territory. Enveloped by five seas and latitudinal gradients with influence from both tropical and temperate waters, the country is blessed to have one of the highest diversities of marine and coastal ecosystems in the world, including the largest mangrove forest cover in North America.
Put simply, a healthy ocean is essential to Mexico's and humanity's long-term wellbeing, and Mexico has a critical role to play in supporting a healthy ocean. Mexico can, and should, be a global leader in protecting its oceans and coasts, ensuring a well-managed use of its marine resources, and building a sustainable environmental and economic foundation for generations to come.
Working to conserve the ocean will bolster Mexico's economy and improve the wellbeing of its citizens. Doing so requires a fundamental shift from seeing the ocean as an exploitable resource to viewing it as an essential asset that should be sustained, regenerated, and cared for.
Mexico is taking action on ocean health, reaffirming its commitment to build a sustainable and regenerative ocean economy. In September, on the margins of the United Nations' Climate Summit held in New York, Mexico's Minister of Foreign Affairs, Marcelo Ebrard, signed a call for action put forward by the High Level Panel and announced the declaration of 31 fishing refuge areas to bring more than 100,000 hectares of Mexico's ocean under sustainable management in advance of the United Nations Ocean Conference in 2020.
Mexico's commitments build on the leadership of fishing communities and cooperatives that are working with the government, researchers and civil society organizations — including the Packard Foundation and its partners — to establish over 40 fishing refuge areas in the Gulf of California and the Yucatán Peninsula over the past eight years. These actions are now paying back by replenishing many local fisheries and protecting key ecosystems. This is a great and encouraging example of a regenerative economy in action.
No change is accomplished without motivation, and there is no better motivator than the power of hope: the hope of a better future for people and the planet we depend on. Mexico can take that vision and help create a better world.
As leaders gather in Madrid to discuss the future of humanity and our planet, this message must be clear: Ocean is life.
Dr. Richard Cudney Bueno is with the Conservation and Science Program of the David and Lucile Packard Foundation, leading the Foundation's marine work in Latin America.
rcudney@packard.org twitter @RichardCudney