World Ocean Day is celebrated annually on June 8th and together, the three of us, traveled to Washington DC during the first week of June to convene at Capitol Hill Ocean Week (CHOW) with those who love the ocean and are working to protect it.
On the eve of CHOW, we met with ocean advocates to launch Heartwired to Love the Ocean—a new messaging guide for those who want to grow and solidify public support for marine conservation.
Those gathered represented both NGOs working at the grassroots and national level and funders, like us, who invest in and support the incredible people and organizations creating positive, lasting change to protect the ocean.
Goodwin Simon Strategic Research and Wonder: Strategies for Good led an exploration of the latest research on how people relate to the ocean—the mindsets that drive people's love of the ocean and how effectively reaching and engaging individuals with the right communications is core to helping advocates and funders alike to foster and support a diverse, inclusive conservation field. [Read more about the Foundation's support of Heartwired to Love the Ocean]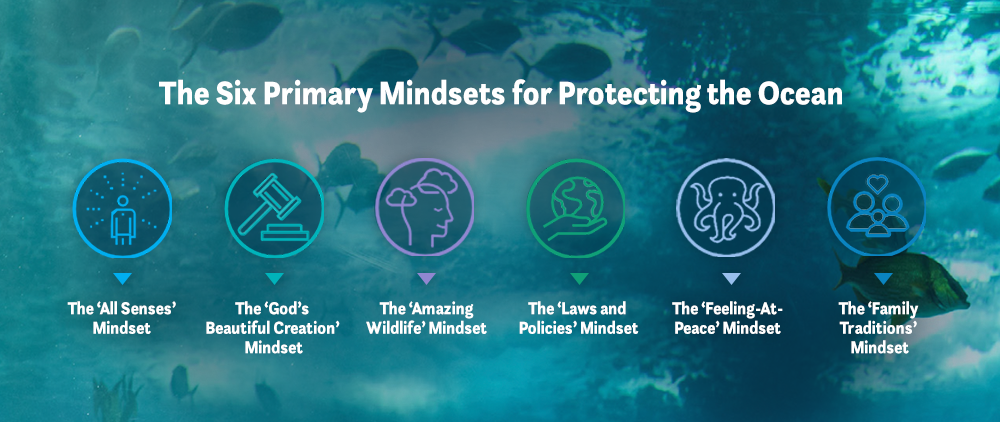 "Our audiences have a genuine willingness to take action to protect the ocean—when we communicate with the right messaging," said Robert Perez of Wonder, one of the authors of Heartwired and Heartwired to Love the Ocean.
CHOW conference activities, run by the National Marine Sanctuary Foundation, centered on marine, coastal and Great Lakes policy, and provided the opportunity to connect with advocates working to address Illegal, Unreported and Unregulated (IUU) seafood products from entering the United States.
In the Transforming the Global Seafood Market conference session, moderated by Heather, attendees were exposed to our current ocean-climate challenge and reality: Knowing more than 3 billion people are dependent on the ocean for their primary source of protein and it's more critical than ever to establish a sustainable, global seafood market.
"We are the largest importer of seafood globally," said Heather to an auditorium of hundreds. "The U.S. has a lot of leverage to drive change because companies want access to our market. Today, sustainable seafood is no longer a high-end niche product, but a basic requirement for access into the U.S. market."
Ocean and labor rights hero Patima Tungpuchayakul, who freed over 3,000 people from slave labor at illegal fisheries in Indonesia, urged consumers to ask questions about how their seafood was caught and to know whether the seafood on their plates was caught by slave labor and children.
Addressing human rights and labor violations in seafood production is a next critical step in marine conservation. This thread was picked up later in the week at a meeting of Packard Foundation grantees focused on the role the U.S. can play in addressing IUU fisheries.
View the CHOW session to explore efforts to transform business practices, protect human rights, and maintain food security to ensure a thriving ocean.
For us, the week was packed with too many incredible events to recount, but a few highlights include grantee Azul and NRDC's Voces talking with Corazón Latino about their love for the ocean, community engagement, issues of coastal access, plastic pollution and ocean health during a Facebook Live Chat in Spanish on #DiaMundialdelosOcéanos.
The NGOs who advised on the Heartwired to Love the Ocean project joined us at the 17th Annual Ocean Awards Gala to celebrate Ocean champions. And, Betsy finished off the week at the United Nations in New York City for a UN World Oceans Day event.
The week was one of learning, big questions and ideas and of celebrating progress in ocean conservation, while recognizing the work ahead.