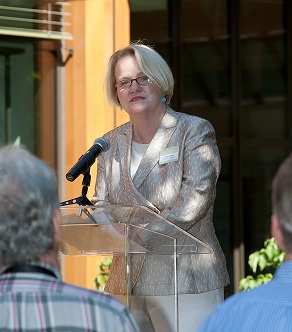 This year, 2014, marks our 50th year as a foundation.  In many ways, it will be like any other year.  We will continue to work in partnership with our grantees and other funders to promote change in our longstanding areas of commitment and passion: conserving and restoring earth's natural systems; enabling creative science; promoting the reproductive health and rights of women and young people; ensuring a good start for children in their earliest years; and supporting vibrant local communities. But we will also take the opportunity during this milestone year to communicate a little more directly with you about the issues and causes we care about, the work we have supported with our grantee and funding partners over the past many decades, and the work that lies ahead of us.
In this first letter, I want to share some brief thoughts about how I see the Packard Foundation's place among philanthropic organizations. We are one of the largest family foundations in the country, led by a governing board of second- and third-generation Packard family members and also non-family trustees.  We aspire to be one of the best examples of a family philanthropy that both embraces, and contributes to, good grantmaking practices across the philanthropic and nonprofit fields.
As described in the message from Susan Orr, the Foundation's Board chair, throughout our history we have sought to honor the generosity and foresight of our founders, David and Lucile. We are inspired and shaped by their example and by their values, including their encouragement to innovate, to take risks, and to adapt in order to have greater impact.  Indeed, while the underlying strategies and the specifics of our work have changed, the issue areas we support still flow directly from the Packard family's values and interests. David and Lucile, not only through this organization, but also through their personal philanthropy and leadership in communities large and small, worked throughout their lives to improve their world. This tradition of leadership and contribution continues in the family and at the Foundation today.
For many of us, this is a familiar story. Most philanthropic organizations actually start with families. We all know the general storyline, which I think in many ways is especially strong in the American culture:  individuals amass wealth, and some combination of personal values and social concerns leads them to set up foundations to do good things with their wealth. It is a wonderful tradition.  Through my role as a Council of Foundations board member and with other philanthropic sector organizations, I have met many outstanding representatives from foundations who still feel those strong connections to their founders' values.
Throughout my time here at the Foundation, I have seen our board and our staff strive towards the ideal of what it means to be a family philanthropy.   Fifty years ago, there were many large-scale challenges in the areas David and Lucile cared about—the environment, science, children, reproductive health and local communities.  And, we still have much work to do on these issues.  But throughout the 50 years we have been in operation, we've seen many signs of progress and improvement.  No matter what, we seek to maintain a clear-eyed focus on two things:  one, our belief that these types of challenges demand a long-term commitment and vision so potential solutions can gain traction, and two, that this Foundation's history and values give us the drive and ability to work with great grantees and partners for the long run. I find this continuity of purpose both humbling and inspiring.
During this year, we will be sharing more stories about the work supported by the Foundation and led with grantees and collaborating donors. We will be gathering moments from our history and re-connecting with friends from our past.  In some cases, we will be expanding on new themes in our ongoing areas of work. Our goal is to celebrate the progress that has been made in these partnerships, and to underscore that much more can be done.  The future is full of opportunity for greater impact.