As the Children, Families, and Communities team prepares for this year's grantmaking for the initiative we call Insuring America's Children Reaching the Finish Line, I find myself reflecting back to this past July when I joined child advocates from around the country for the annual Georgetown University Center for Children and Families (CCF) child health policy conference in Washington, D.C. CCF has been a leading Packard Foundation grantee and partner since its establishment in 2005. They have been instrumental in the Finish Line project, providing research and policy analysis to expand and improve health coverage for children and families, and related support to state-based grantees (more about this in a bit).
It was very fitting that the first day of the conference, July 30th, was also Medicaid's 54th birthday. CCF Director Joan Alker kicked-off the conference wishing Medicaid a happy birthday, and with the largest attendance yet, we celebrated together the long-standing importance of the Medicaid program and how it has provided and expanded health insurance to low-income adults and children. Medicaid, along with the Children Health Insurance Program (CHIP), are two of the main forms of health coverage for children in the U.S., and in fact, 39 percent of U.S. children are covered by Medicaid and CHIP. Medicaid provides kids access to essential preventive and comprehensive health services, and it also contributes to long-term societal and economic gains—when kids have health coverage, they do better in school, become healthier adults who earn higher wages and pay more in taxes. Furthermore, the whole family benefits from Medicaid—when parents are covered, they are healthier and able to better care for their children and are more likely to ensure that their children are covered as well.
For decades, child advocates like the ones gathered at that conference and the funders who support them, have been fighting to ensure that all children are covered with quality health insurance. Those efforts led to an all-time low of uninsured children at 4.7 percent in 2016. Unfortunately, within the past two years, several changes to federal policies have presented setbacks in getting children enrolled and staying covered. Recently, it became clear that the nation's rate of uninsured children had increased to 5.5 percent in 2018. In fact, almost 1 million children disenrolled in Medicaid/CHIP in 2018. These statistics are alarming. However, I am reassured that there is a strong network of passionate and committed child advocates who will protect children's health coverage from further setbacks.
Medicaid provides kids access to essential preventive and comprehensive health services, and it also contributes to long-term societal and economic gains—when kids have health coverage, they do better in school, become healthier adults who earn higher wages and pay more in taxes.
Many of these child advocates have been participating in the Finish Line initiative since the Packard Foundation launched it in 2007. For the past twelve years, the Foundation has funded state-based organizations that are well positioned to make advances in health coverage and improve access to quality care for children and their families in their states. In addition, we support these grantees by providing strategic policy support through CCF and communications technical assistance with communications firm GMMB. When I started at the Foundation, 10 states were a part of the Finish Line project, but it has since increased to 18 states. In the past two years, we nearly doubled the number of Finish Line states as we saw the need to increase efforts to safeguard children's health coverage due to a volatile federal policy environment that jeopardized insurance coverage and access to health services.
For example, there were several attempts to repeal the Affordable Care Act (ACA) and the coverage it ensured for kids in 2017, but the expanded Finish Line network coordinated its efforts and consistently and persistently advocated to policymakers to defend the ACA, and the law still stands today. Our Finish Line partners have also focused on coalition building within their states, like North Carolina, where NC Child established the only state coalition in North Carolina during tumultuous times that advocated for sound children's health policies. More recently, Finish Line partners have been working to combat the negative effects of federal proposals on immigrant children and families—partners like Texas advocates, who have become state leads of the national Protecting Immigrant Families Campaign, and  have created new partnerships and galvanized an extended network of advocates to oppose policies that threaten immigrant families.
The Packard Foundation has also worked with other foundations on a coordinated approach to funding and supporting these organizations, including the Annie E. Casey Foundation, Missouri Foundation for Health, Episcopal Health Foundation, and many others around the country.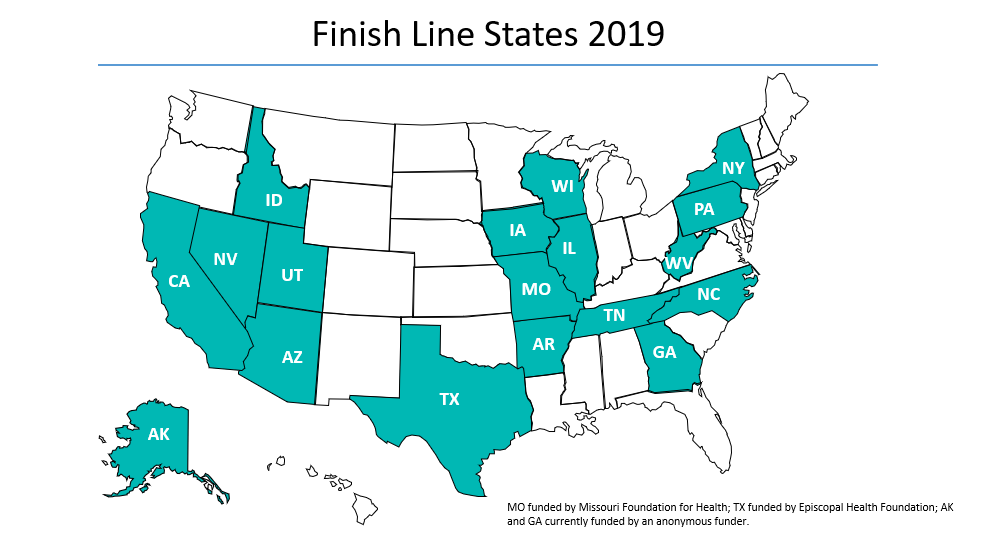 As I gathered this past summer with Packard Foundation staff, leaders from our grantee organizations, and other child advocates, I could feel the excitement and the renewed commitment for the work ahead. It was so inspiring to have the opportunity to meet and reconnect with our grantees, and to truly get to know them beyond their proposals, emails, and phone calls. It was so clear that we all shared a deep appreciation for one another as we collectively and collaboratively work towards improving health coverage and care for children, even in the face of challenging obstacles.
I am thankful to CCF for another great conference this year and for their work in strengthening the children's health advocacy network, as well as for all the child advocates for their continued relentless efforts to protect the well-being of children and families.