John Claussen leads the Packard Foundation's work on marine conservation and fisheries management in Indonesia and the Western Pacific. In this role, he recently led an update of the Foundation's Indonesia Marine Strategy, which will guide its ocean grantmaking and other related investments from 2018 – 2021. Below, John highlights his personal story and interest in the ocean and key aspects of the revised strategy.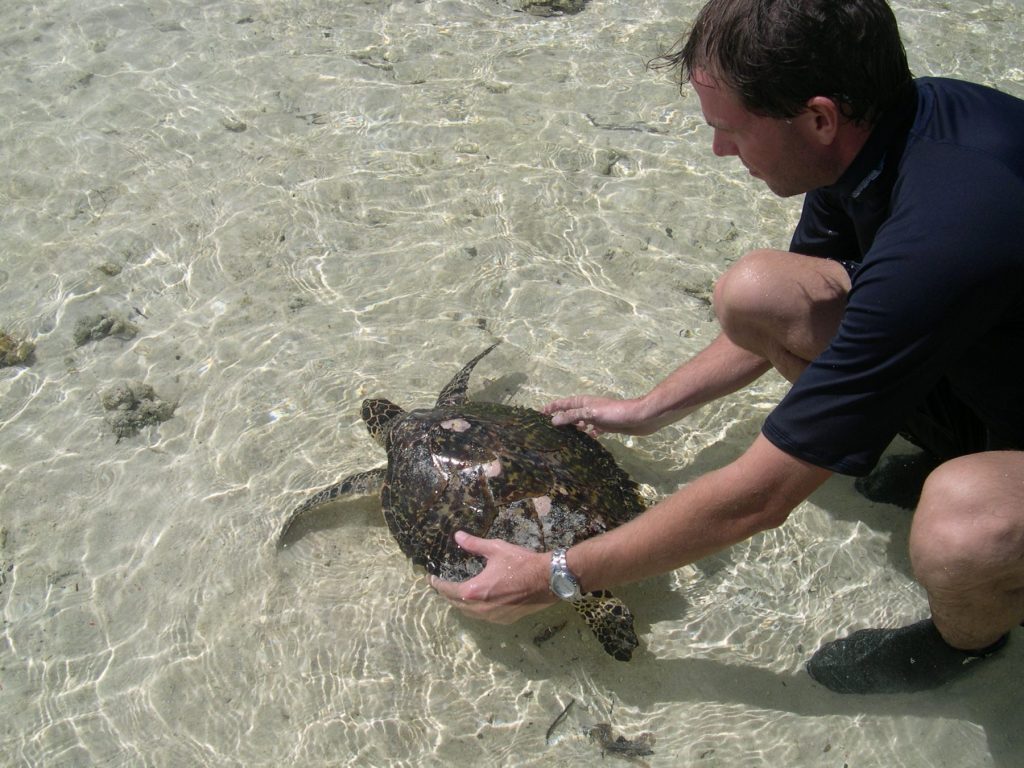 Tell us about your first experience with the ocean. What captivated you then and continues to interest you now?
I grew up in Upper Michigan where the Great Lakes were my ocean—I spent many summer days exploring sandy coastlines, swimming in the clear, fresh water, and hunting for agate stones and other treasures, and winter days walking the shores watching the powerful waves crash along the coast to create awesome ice formations. These are among my fondest childhood memories.
My first encounter with the ocean, in any meaningful way, was at age 13. My family packed up our silver station wagon and drove more than 2,000 miles across the country to the California coast. It was on this trip that I first plunged into the Pacific Ocean and watched the orange glow of the sunset slowly sink into the waves. I returned to California over the years, eventually moving here after college, and visited the Steinhart Aquarium in San Francisco, the Monterey Bay Aquarium, and Point Reyes National Seashore, among other coastal gems as much as possible. Those early experiences with the Great Lakes and the Pacific inspired and encouraged me—personally and professionally—to commit to preserving the beauty, wonder, and abundance that the ocean offers.
When I began working with the Packard Foundation, first as a grantee in 2001 and now as a Program Officer, I realized there was more to be done to generate awareness and solutions to create a future where the ocean thrives, especially if these resources will be around for my children and future generations.
What keeps you passionate about the ocean and conservation efforts at the Packard Foundation?
I'm proud to be a part of the Ocean team, supporting the work of our grantees and others who every day are exploring, learning, and improving how people interact with the ocean. The ocean represents what we need to survive on our planet. The Packard Foundation is a leader in ocean conservation, supporting—for over two decades now—efforts to restore, protect, and maintain ocean health.
What are three interesting facts you wish more people knew about the ocean and Indonesia?
The first is that Indonesia spans 3,000 miles between the Pacific and Indian Oceans and is home to the most biodiverse marine ecosystem on Earth. Second, approximately 20 million people who call Indonesia home rely directly or indirectly on the fishing industry for their basic livelihoods. And third, Indonesia's marine resources rank number two in aquaculture production and number three in wild capture fisheries production globally. These resources are under threat, and they have been for some time.
What are the biggest ocean challenges to overcome in Indonesia?
Overfishing is primary among them, including illegal, unreported, and unregulated fishing (IUU), as well as the lack of effective management and enforcement capacity within the government, and limited awareness among the public, although that is changing rapidly as the younger generation begins to pay more attention.
The Indonesian government has begun to prioritize marine resources as an economic growth sector, with plans afoot to double production from wild fisheries and aquaculture. Unfortunately, most Indonesian fisheries are already at or above their maximum level of harvest, which is more pronounced in nearshore fisheries that provide livelihoods and employment for many small-scale fishers. It is incredibly important that Indonesia simultaneously invest in effective and sustained fisheries management while improving the value that accrues from the resource.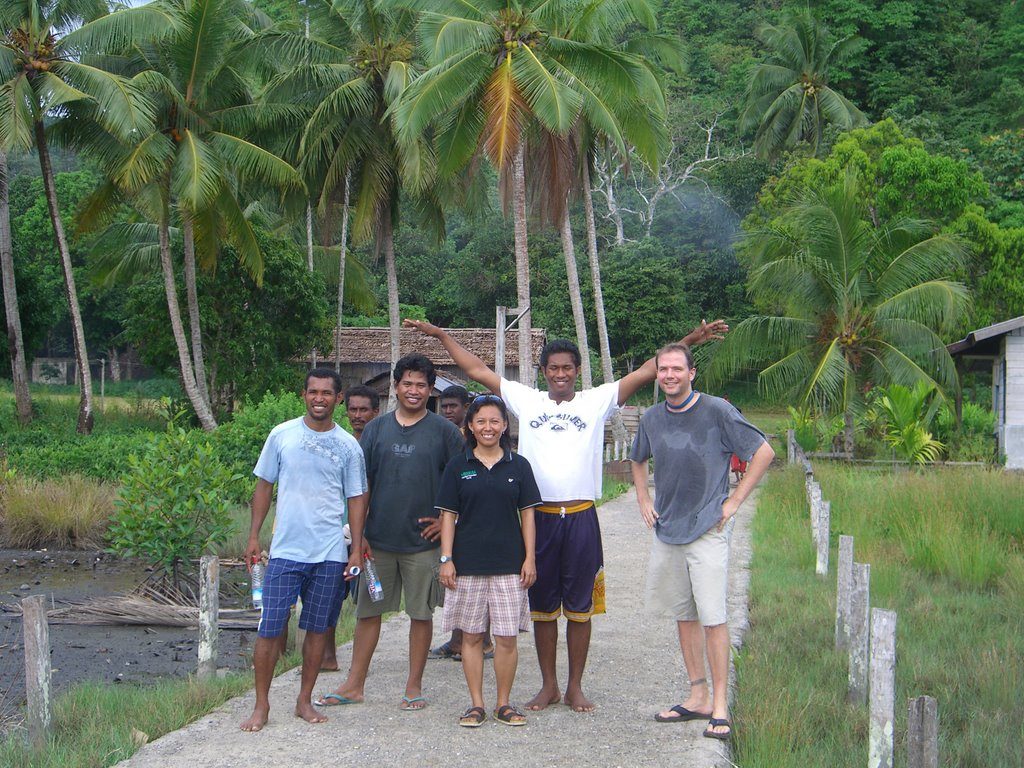 Describe the focus of the Foundation's refreshed Indonesia Marine Strategy and any particular priorities you feel are important at this time.
We focus our grantmaking on these three key elements:
Providing Evidence of Good Fisheries Management supporting local partners to establish examples of good fisheries management in important Indonesian fisheries, including blue swimming crab, mixed fishery deep-water snapper, and tuna.
Informing Fisheries Management Policy Reform: We are supporting local leaders working to shape the public discourse, policies, and economic factors that most influence the long-term sustainability of marine resource management in Indonesia. We are also supporting a coalition of civil society partners to work with government and industry to inform, develop, and implement policy reforms.
Building Capacity and Leadership for Improved Management: Our goal is to support local and national leaders across civil society, government, and the private sector with a desire to lead, and who, with additional support, can help shape and drive policy reforms. Our revised strategy commits 40 percent of our resources to this goal.
An important priority for us as part of the latter is launching the Emerging Environmental Leaders of Indonesia (EELI) program. The Packard Foundation is coordinating across its strategic programs (Marine, Land Use/Palm Oil, Agriculture, Livelihoods, and Conservation, and Organizational Effectiveness) in Indonesia on the creation of this new leadership program to foster, strengthen, and network local leaders working on environmental and social sustainability issues across Indonesia.
Specifically, we are interested in supporting an EELI program to provide participating leaders with the ability to:
Form meaningful connections with a diverse group of emerging leaders (including an emphasis on women and youth) across civil society, community-based groups, local government agencies, and the private sector;
Develop a holistic mix of hard, soft, and transformative leadership skills needed to lead an organization and to inform and communicate the need for actions, including policy reforms; and
Participate in an active alumni network and mentoring that continues to provide peer support over the longer-term.
What gives you hope that you can achieve the goals stated in your strategy?
I am excited by what we are poised to achieve through our partnerships with our grantees, the communities where we work, industry partners, and other donors. This is especially true given the leadership demonstrated by many working within the Indonesia government. While strengthening fisheries management and restoring the health of Indonesia's extraordinary marine ecosystems will not happen overnight, the growing awareness, efforts, and commitment from all corners of Indonesian society present a unique opportunity to achieve important impacts. Working together we can make a difference and build a foundation for important change that our children will thank us for.